Avoid using a focus keyphrase more than once
Your focus keyphrase is the phrase you'd like your page or post to rank for. If you're eager to rank for a particular keyphrase, you might be tempted to optimize more than one article on your site for that keyphrase. But you shouldn't do that! That's why the SEO analysis in the Yoast SEO plugin checks for previous use of focus keyphrases. Now, you might wonder: why does it matter if you use your focus keyphrase more than once? Does it hurt your SEO? And: how do you avoid it? Let's find out!
Why you shouldn't use your focus keyphrase more than once
So, why should you only ever use a focus keyphrase once? The main reason for this is that you don't want to compete with yourself for a position in Google. If you optimize two different articles for the same focus keyphrase, you're telling Google that both are suitable for people searching for that keyword, and you want both of them to appear in the search results. In most of these cases, Google won't know which one to show in the search results, and both of the articles will rank lower.
Note that although it is very – very! – hard to rank two articles in the top ten search results for the same query, it's not necessarily impossible. To make this happen, you need to have a site with quite a lot of authority. If one of the articles already ranks for a term in the search results, you may have enough authority to try and rank with a second one. But if you're not already ranking for a focus keyphrase, you should never use it twice!
Learn more about this check in Yoast SEO in our explanation of the previously used keyphrase assessment.
How to avoid using the same focus keyphrase
So, the Yoast SEO plugin will tell you if you've used a focus keyphrase before. But what should you do in that case? How should you avoid using the same focus keyphrase?
Imagine you're starting a dog training school in Bakersfield, California. You'd probably want to rank for [dog training], but as you're just starting, that'll be pretty hard. You might think: I'll just optimize all of my posts for [dog training], but as we've seen before, that's not the right strategy. So, what should you do?
Start with keyword research
The most important tip we can give you is to do keyword research before you start optimizing your website. Keyword research is the essential first step in SEO copywriting, and it's about finding the right focus keyphrases for your website. You get inside people's heads to find out which words they use when searching, and you analyze what your competition is doing. The result will be a long list of keywords for which you'd like to be found. This will give you some ideas about which other terms to target.
What to do if you have a blog
So, by doing keyword research, you'll know which other terms you could focus on. But you still want to rank for that head keyphrase, [dog training] in our example. What's the best way to approach this? Let's take a look at how you should go about this if you have a blog.
If your site has a blog, you could write an awesome, long cornerstone article about all different aspects of dog training and optimize it for the term [dog training] using our Yoast SEO plugin. Then, mark this article as cornerstone content in our plugin.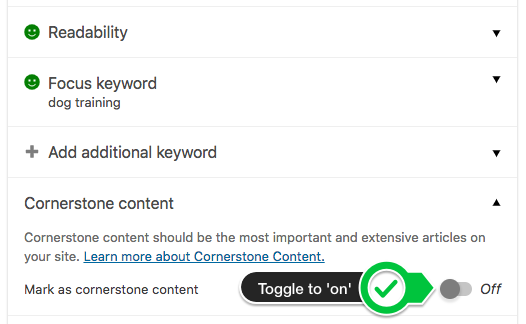 In addition, you'll need to write a lot of posts, each covering a different aspect of your head keyterm. For instance, you could write articles and optimize them for focus keyphrases like [the benefits of dog training], [what to expect from a dog training class], [when do you take your puppy to training classes], and so on. These focus keyphrases are called long tail keyphrases. If you link from these long tail articles to your head keyterm article, you'll let Google know which one of your articles is most important, and that will help with the ranking of your most valuable article. This increases your chance of ranking for your head keyphrase.
What to do if you have an online shop
Let's say you don't just offer dog training classes, you also offer dog food. You have a pretty big assortment: food for thin dogs, food for fat dogs, food for puppies, food for very active dogs, etc. Should you optimize all your product pages with puppy food for [food for puppies]? As we've seen, that's not the best idea. In this case, it makes more sense to optimize your category page for this focus keyphrase, instead of all those individual product pages.