Yoast SEO Premium 19.1: new front-end SEO inspector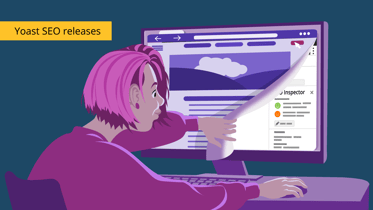 If you've been following our releases, you might notice that we've been pumping out a lot of new features recently. Continuing that momentum, we're releasing yet another feature: the front-end SEO inspector. This tool allows you to quickly and intuitively view your SEO settings, without leaving the front end of your website. Besides that, we're enhancing our structured data implementation in the latest update of our Local SEO plugin. Folks running businesses such as churches, zoos, museums, etc, we're helping Google to get a better understanding of your business with this update!
Coming in this release:
Meet the front-end SEO inspector
Checking your SEO settings can be a hassle if you're a newcomer to SEO. You may find yourself going into your WordPress admin area, opening a post, and only then can you find the information you want to see. Quite a few steps to take to do something as simple as checking information, don't you think?
That's exactly why we decided to develop the front-end SEO inspector. As the name suggests, this tool allows you to view the settings and metadata that your posts and pages output, right from the front end of your website. With just a single click, you have your SEO scores, meta tags, schema output, and more information nicely laid out for you to "inspect". And if you decide you want to make a change, there's a button that takes you straight to the editor.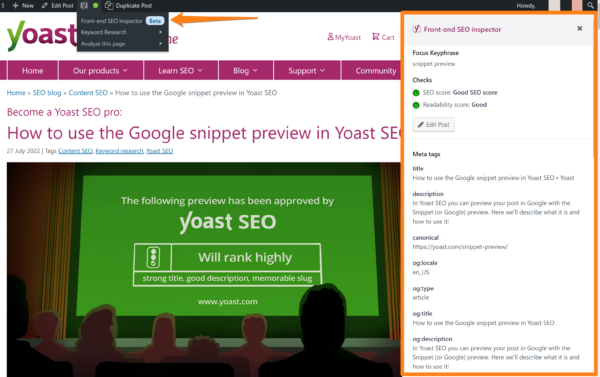 It's good to know that this feature is currently in beta. To use the feature, you need to be logged into WordPress. When you want to examine a page, simply hover your mouse over the Yoast logo in the top admin bar and click "inspect".
For newcomers to the world of WordPress and SEO, this tool is for you! When you're learning about SEO, it's really helpful to know about some of the basic aspects of technical SEO. Like the concept of meta tags and the various tags that Google sees on your page. At the same time, it can be difficult to learn about these things because you might not know where to look for them on your website. The front-end SEO inspector helps to familiarize yourself with these concepts, as you can easily view your SEO settings and metadata, all without having to spend time looking!
Enhancement in Yoast SEO Premium 19.1
We're adding an enhancement to our SEO analysis that will help you speed up your workflow when editing. You'll notice that there's an icon of a pencil next to some assessments, like the meta description length check, in our SEO analysis. Clicking on the icon allows you to edit the value there. Pretty handy for making quick adjustments!
New schema support for public structures in Local SEO 14.6
In this release, we're adding support for all the CivicStructure Schema types. Civic structure is probably an uncommon and confusing term. In the sense of schema, it refers to public entities that are vital to the lives of people in a city or town. For example, those are your museum, bus station, art theater, or cemetery. The detailed list can be found on Schema.org.
You can now set a location to be, for example, a museum, city hall, or any other civic structure and benefit from all Yoast Local SEO has to offer. Our schema will let Google know that your business, which is situated in this location, is, in fact, a theater or a fire station. That'll potentially put you on the (local) map when people search about you (or search for you).
Bug fixes and schema adjustment in Yoast SEO 19.5
Bug-fixing is a crucial part of any software release. In this update, we're fixing a couple of small bugs that may affect some users when using the plugin.
Next to that, we're making adjustments to the way we output schema. Particularly, we've changed the order in which schema nodes are output. From `Organization / Person > WebSite > WebPage > Article` to `Article > WebPage > WebSite > Organization / Person`. This fixes validation issues for the Schema validator and puts the most important schema content first.
Stay up to date!
Getting the latest version means that your site will always be as fast, efficient, and optimized as possible. Not to mention, you'll get the latest and greatest features of our plugins. So, it's time to update!
Coming up next!
Event

December 09, 2023

Team Yoast is at Attending, Organizing, Sponsoring WordCamp Ahmedabad 2023! Click through to see who will be there, what we will do, and more!

See where you can find us next »

SEO webinar

12 December 2023

Learn how to start your SEO journey the right way with our free webinar. Get practical tips and answers to all your questions in the live Q&A!

All Yoast SEO webinars »