Yoast SEO 16.7: Extended headless support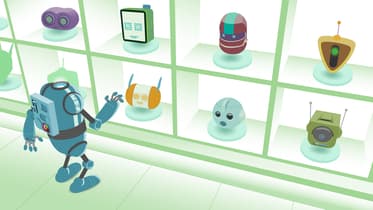 Did you know Yoast SEO comes with a REST API that developers can use to access our metadata in a headless WordPress installation? By exposing this data, we help developers make sure that the SEO of the site you built in your headless CMS is top-notch. In Yoast SEO 16.7, we're making more data available and also in a different format: JSON. That's not all because we've also built an Algolia integration for Premium customers.
Control the metadata output of your headless CMS
As you might know, a headless CMS comes with a back-end and data storage. There's no front-end, so you are free to use modern web technologies to build one to your own specifications. While there are many custom headless CMSs, it's also possible to turn good old WordPress into a headless CMS if you want to do that.
A headless CMS is cool and all, but working on your SEO becomes a slightly different thing. For one, not all headless CMSs come with dedicated SEO tools. You have to really think about SEO from the start of your project, or you could run into issues later on. Still, if you are using the CMS many people know and love — WordPress —, you can use Yoast SEO. But keep in mind, many other plugins will lose their functionality in a headless environment.
Yoast SEO is essential for headless WordPress
Yoast SEO takes care of many technical SEO aspects and it helps you produce awesome content that ranks in the search engines — even on headless WordPress installs. With the Yoast SEO REST API, we help developers using headless WordPress as their backend to make sure that these settings and metadata are properly translated to the front-end of your site.
Our REST API sends all that data and makes it available in the section of your pages. This includes all OpenGraph data, Schema.org structured data, crawling directives, and more. This makes it very easy for headless WordPress sites to use Yoast SEO to manage all of their SEO.
In Yoast SEO 16.7, we've expanded support for headless WordPress. We've made the metadata available in the head section as a JSON object for you to use. Our upgraded REST API now includes individual keys/values for our meta tags, data, and Schema output.
You can learn more about the Yoast SEO REST API in our developer documentation.
Don't forget to sign up for our upcoming webinar if you want to learn more about headless CMSs.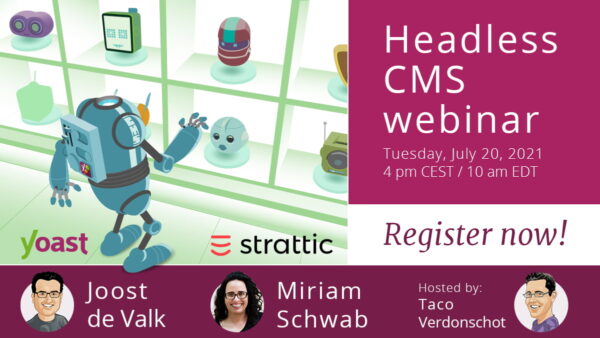 Algolia integration in Yoast SEO Premium
Algolia is one of the most powerful site search engines you can get. This search and discovery engine powers many of the biggest sites on the planet. Algolia makes the search engines on sites a lot smarter. At Yoast, we're big fans of it and we had a custom set-up for this, particular to our specifications, helping to make the search results even more intelligent. We thought that it made sense to bring this to a lot more sites using Algolia.
In Yoast SEO 16.7, Premium users can now use our Algolia integration. Activating this and reindexing your site content should lead to dramatically improved internal search results. To develop these highly relevant search results, we use the ranking feature that powers our internal linking suggestions. Your site search will now always uncover your most important first — relevant to the search, of course.
Joost de Valk wrote a more detailed explanation of how this Algolia integration works and how you can make the most of it. Last but not least, we also have a document on how to set up the improved site search Algolia ranking. Do read it!
Unlock this feature in Yoast SEO Premium
Get this feature and much more for your WordPress site with the Yoast SEO Premium plugin!
Yoast SEO 16.7 expands support for headless WordPress
Yoast SEO 16.7 comes with extended support for headless WordPress. In addition, Yoast SEO Premium users can now activate and run our Algolia integration. This helps you power up your internal site search in no time!
Coming up next!
Event

December 09, 2023

Team Yoast is at Attending, Organizing, Sponsoring WordCamp Ahmedabad 2023! Click through to see who will be there, what we will do, and more!

See where you can find us next »

SEO webinar

12 December 2023

Learn how to start your SEO journey the right way with our free webinar. Get practical tips and answers to all your questions in the live Q&A!

All Yoast SEO webinars »