Yoast SEO 16.2: Getting your technical SEO in shape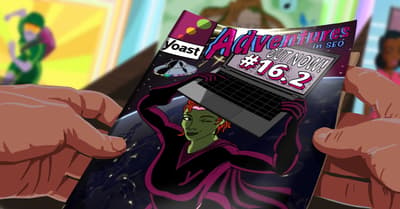 One of the focal points of Yoast SEO is getting out of your way. If we look at the technical aspects of SEO, Yoast SEO gets stuff done. Plus, most of it happens in the background, without you noticing it. But whenever you need to dive deeper and customize your setup for specific use cases, Yoast SEO is there for you. In Yoast SEO 16.2, we've added some enhancements, and we'll take a look at your technical SEO fitness.
Make your site technically SEO fit
Building a site has become a lot easier over the years, but getting that site ready to start hasn't. At Yoast, we see it as our mission to help every site owner get a fair chance at ranking their content in the search engines. For this to work, we built an SEO tool that makes a great default setup to roll out the carpet for search engines: Yoast SEO.
Curious how fit your site's technical SEO is? We've created a technical SEO fitness quiz that can help you figure out what you need to work on!
Take the technical SEO fitness quiz »
Yoast SEO helps your site get fit
Yoast SEO helps your site get technically fit. Install Yoast SEO and a ton of work is done behind the scenes. It uses sensible defaults to point any site in the right direction while also giving enough tools, features, and settings to determine its direction.
For instance, Yoast SEO lets you control the crawlability of your site in detail — saying exactly where a search engine should and shouldn't go. The XML sitemap Yoast SEO automatically generates for your site makes it incredibly easy for search engines to discover, index, and rank your content. This works just as well for small sites with just a couple of pages as huge sites with millions of them. It's not for nothing that everyone from the baker on the corner to Star Wars and Disney uses Yoast SEO!
And what about structured data? This is one of the most important aspects of technical SEO. It gives you a way to talk to search engines about your content directly. Describe your business, articles, news items, products, and everything else with Schema.org structured data and search engines can uncover your content and content the dots between everything. By doing this, you'll get a bigger chance of getting those epic rich results!
Set your Schema.org settings properly — pick if your site represents a person or an organization and upload an image — to make the most of this. You can also set specific types of Schema.org for specific pieces of content with the Schema tab in the post editor.
Of course, you need to work on it!
Yoast SEO can do a lot for you, but you still need to put the work in yourself. Maintaining your site is just as important as building it. Regularly check your crawl errors in Google Search Console to see if you have URLs that give errors. Yoast SEO Premium comes with an awesome redirect manager that helps you redirect those URLs to fix those 404s.
There's a lot more that Yoast SEO can do for you. Find out what else you can do to get the technical SEO of your site in shape!
In Yoast SEO 16.2: Fixes and enhancements
Yoast SEO 16.2 is a small release, focussing on improving stability and fixing several bugs. Also, we made several enhancements. We've improved the performance by optimizing the way Article schema is built, saving a query on page load. We've changed the output of the articleSection and keywords attributes of the Article schema to an array instead of comma-separated values.
Moving on, we've improved the accessibility of the social sharing links in the post publish panel. Finally, we've added a 'wpseo_enable_editor_features_' . $post_type filter to allow users to show the Yoast SEO meta box on non-public post types if these are accessible. Props to Jon Campbell.
That's it for Yoast SEO 16.2!
Yoast SEO 16.2 is out today, and you can download it from your favorite sources. If you activated auto-updates in WordPress, you'd get it automatically — how cool is that. Now, what are you waiting for? Give your site some love and get it SEO fit!
Coming up next!
Event

December 09, 2023

Team Yoast is at Attending, Organizing, Sponsoring WordCamp Ahmedabad 2023! Click through to see who will be there, what we will do, and more!

See where you can find us next »

SEO webinar

12 December 2023

Learn how to start your SEO journey the right way with our free webinar. Get practical tips and answers to all your questions in the live Q&A!

All Yoast SEO webinars »