Yoast SEO for Shopify! Whaaaaaat?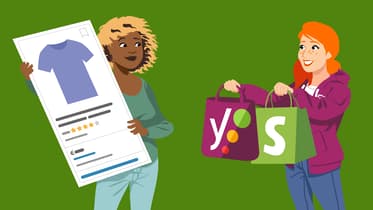 By the end of this month, we'll launch a Yoast SEO app for Shopify! That's huge news! In this post, we'll explain why we chose to build an app for Shopify. We thought long and hard about it. And it took some time and effort to build it as well. I'll discuss some business reasons and some, equally important, reasons around our core values.
SEO for everyone
Our mission is SEO for everyone. We want everyone to have a fair chance in the search engines. Shopify is a large ecommerce platform and it's growing fast. Extending our services to Shopify will help us to get closer to our mission. We're currently also working on a desktop app that can be used by everyone, regardless of their CMS of choice. Next to our WordPress plugin, we also already offer an SEO solution for Typo3 and a WooCommerce SEO plugin too.
Business reasons
Let me be clear and blunt about this. An app on the Shopify platform is a huge business opportunity. Shopify is growing fast. It makes sense to build an app and profit from the growth of that specific platform. The price points in Shopify are very different from the prices in WordPress (and maybe a tad bit more reasonable as well). That makes the Shopify market attractive to extend to. We have big dreams to grow our company further (in and outside of WordPress) and success in Shopify would make that a lot easier.
The growth of Yoast (up until now) has been highly dependent on WordPress. That makes us a bit vulnerable. When deciding to build the Shopify app, we were not acquired by Newfold Digital yet. The decision to build that app was also one of risk-diversification. Having an app or plugin on multiple platforms just makes sure that our company can grow sustainably.
Why Shopify?
We're breaking with our tradition to only release Yoast SEO software to open-source platforms. Shopify is closed source. We had a lot of conversations about that because at Yoast we're open-source fanboys and girls. At the same time, making the web better is also something very dear to our heart. And we think that Shopify is making the web better. We strongly believe in Shopify's mission to bring small businesses online. We feel that it is important for the internet that people have their own website and not sell their products via a third party. With our Yoast SEO for Shopify app, we want to help people rank with their own online store by doing Shopify SEO properly.
Next to that, the values of Shopify really resonate with us. They are focused on small businesses and helping them to grow their businesses online. They want to make commerce better for everyone. They build for the long term; they believe in sustainability and are excited about social impact initiatives. So Shopify is the kind of company that we would like to be friends with.
What about WordPress?
Yoast has a specific, unconditional love for WordPress. We take our responsibility for the WordPress ecosystem very seriously. The five for the future initiative is something that we are certainly passionate about. We'll continue to support at least five for the future! We'll keep investing in WordCamps and in our WordPress Core team. We will also continue to add awesome features in our WordPress plugin, including two amazing new releases this month.
Five for the web
As we love the five for the future initiative in WordPress, we want to make it into a bigger thing. With the money we make in Shopify, we want to give back as well. We're going to give that money back to initiatives that make the entire web better. We're already doing some things there. Yoast is a member of the W3C, and our very own Jono Alderson is in the AMP advisory board. We're planning to grow our efforts and initiatives to make the web better and give 5% of our Shopify revenue back to the web.
Excited for the launch!
I'm really excited about the upcoming Yoast SEO for Shopify launch on January 18th. We had a wonderful time building the app and we can't wait for people to optimize their shops with Yoast SEO! To celebrate, we are having an online YoastCon (- I know it's not the same as a live one) on January 20th. We'll have some amazing speakers talking about all things ecommerce SEO. Interesting for Shopify-ers and WordPressers alike! 
We've launched Yoast SEO for Shopify. Read about it!
Coming up next!
Event

December 09, 2023

Team Yoast is at Attending, Organizing, Sponsoring WordCamp Ahmedabad 2023! Click through to see who will be there, what we will do, and more!

See where you can find us next »

SEO webinar

12 December 2023

Learn how to start your SEO journey the right way with our free webinar. Get practical tips and answers to all your questions in the live Q&A!

All Yoast SEO webinars »