Ask Yoast:
Splitting your product pages by departure date
Running an eCommerce website isn't always easy. You have to know a little bit about everything: digital marketing, technical SEO, copywriting, and so on… What's more, you probably offer many products that are similar, so you have to make sure you avoid those dreaded duplicate content issues, and give extra thought to your keyword strategy.
If you run an online travel agency (and when you offer excursions, or other 'experiences' rather than physical products) things are further complicated by dates and times. For example: you want to give your customers a clear overview of available travel dates, and let them pick a date of departure easily. But what's the best way to implement that on your website? And what can you do to avoid those aforementioned duplicate content problems?
Michael Reiff was struggling with this and emailed us this question:
"We sell voyages on ships and for a better client experience, I want to split them up to single products so they can be filtered by date. That means I'll have several products with the same description, the only difference being the date of departure. Will Google see that as duplicate content and if so what can I do to fix it?"
Watch the video above, or read the transcript for the answer!
Adding trips with different departure dates on your site
"Yes, that's duplicate content. It's also probably not the best way to split your product. You'll have one type of voyage, you have different departure dates. You can very easily say, "We have these departure dates," on your page about that voyage. Much more easily than you can say, "Hey we have these 100 trips. They're really all the same, but they just depart on different days."
So, I think, honestly, that you've made the wrong choice in how you split them up. I would make one page about the product and then just list the departure dates. Good luck!"
Read more: What is duplicate content? »
Ask Yoast series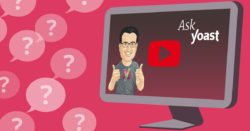 See more from the Ask Yoast series
In the Ask Yoast series, we answered SEO questions from our readers. Check out the other questions!