When you're running a large and busy website, it's practical and time-saving if you can reuse some of your material. Both meta descriptions and excerpts use a brief passage to summarize the content of a web page. So, it could be handy to use the same text for both. But how do you do that? Here, we explain the easiest way to reuse your text for both meta descriptions and excerpts, and whether Google approves of this reuse.
Renee Lodens sent us an email with the following question:
"Is there a way to bulk copy the Yoast SEO meta descriptions to the excerpt field? Also, is this considered duplicate content?"
Watch the video or read the transcript further down the page!
Meta descriptions and excerpts
"Well, let's start with the first thing. It's probably easier to do it the other way around. If you put the description that you want in the excerpt field, and then in the back end, in the Search appearance section [used to be the Yoast SEO Titles & Meta section], you can use the excerpt shortcode for meta descriptions. We will automatically put your excerpt in your meta description. That's easier. You can do it the other way around too, but then you'd have to code a bit.
Is this considered duplicate content? No, it's not. Because they are different things used for different purposes. Your meta description will only show up in the metadata, which will not be shown on the page. And Google considers these two separate things.
So this might actually work well for you if you write really good short excerpts that fit well into your meta description.
Good luck!"
Read more: How to create the right meta descriptions »
Ask Yoast series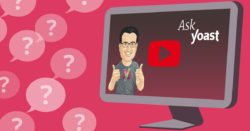 See more from the Ask Yoast series
In the Ask Yoast series, we answered SEO questions from our readers. Check out the other questions!