You may have heard the term "AMP" very often lately. In 2015, Google pushed out this new concept called Accelerated Mobile Pages, in short AMP. AMP aims to make pages load instantly on mobile and, thereby, drastically improve the performance of the mobile web.
You may wonder if you should get started with it too. Because, as a small business owner, you probably only have limited time and resources to spend on your website. So do you have to act right now, or can you wait until there is more information about the impact of AMP for mobile SEO?
In this Ask Yoast, we'll answer the following question:
"Lately I hear a lot about AMP. As a small business owner I'm not sure if I should act now or if I should wait until we know more about the impact. What do you advise?"
Check out the video or read the answer below!
AMP for small business owners
"It depends a bit on what type of small business you are, but to be honest I'd implement it now because it's actually fairly simple to implement if you have a simple site on WordPress. It's as simple as enabling the AMP plugin by the WordPress core team and our Yoast SEO AMP add-on*, so that can do some small tweaks over what the page looks like and make sure to use your own logo etc. But then you have an AMP version of every page or post on our site. And that basically means that you have a very, very fast version of every post on your site, that Google will give preference to serving over other pages.
Because AMP is so important according to Google, I would slowly start to implement it and look at: "Okay, how much work is this really?" If it's too technical for you and you don't have the money, wait a bit, it'll probably become easier in the coming months. But if you can do it now, I would. I hope it works for you!
Good luck!"
*The Yoast SEO AMP plugin is no longer needed. Through good collaboration with Google the functionality of this plugin is now part of both Yoast SEO and the official AMP plugin. If you still have this plugin running we'd suggest updating both the Yoast SEO and AMP plugin and removing the glue plugin.
Read more: The ultimate guide to small business SEO »
Ask Yoast series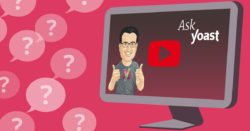 See more from the Ask Yoast series
In the Ask Yoast series, we answered SEO questions from our readers. Check out the other questions!