Looking back at Yoast in 2017
With 2018 just around the corner, it's time to look back at yet another amazing year at Yoast. We've made some excellent improvements to Yoast SEO and released a bunch of new awesome online SEO courses. Team Yoast has been to lots and lots of conferences. We'll write separate blog posts to look back at all those things. But as a company, and an employer, Yoast has done a great many things in 2017 as well! Let's take a look at everything that happened at the Yoast offices in 2017.
Yoast year in review
We made a Yoast infographic!
To give you an idea what Yoast looks like in numbers, we put a lot of them in an overview. The article continues below the infographic:
So many new colleagues
The biggest change in 2017 is the number of colleagues we have. At our office in Wijchen, we are now with 50 colleagues (and already doing interviews to hire more :-)). In 2017, we welcomed over twenty awesome new  people at our Yoast office. On top of that, we hired six new support engineers from all over the planet!  We also decided to sponsor two important WordPress icons –Alain Schlesser and Remkus de Vries-, to make sure they continue their awesome work for WordPress core and the WordPress community.
As our company is growing really fast, we organized lots of events to get to know each other. We have our famous 'Know your colleague-quiz', in which we ask all kinds of random questions (what's your favorite color, what kind of sports did you play when you were a child) about all of the people at Yoast. The colleague that knew most answers (way to go, Ben!) won an amazing price. We also had BBQs, went cycling, bowling, celebrated birthdays, Sinterklaas and Christmas. And on December 27th, we'll have our annual LEGO building day. We're planning to build 100.000 bricks of LEGO in one day. That's teambuilding at Yoast!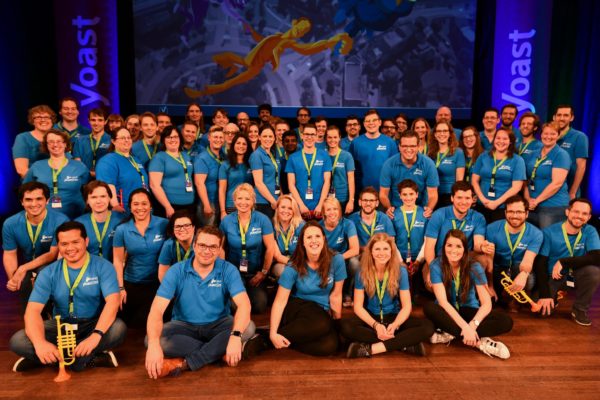 Our new office: building #2
As Team Yoast continued to grow, our Wijchen office was getting too crowded. We decided to open a second office (building #2) in Wijchen, just around the corner from building #1. There was a big celebration when we opened our new office. We drank champagne, did a real skippy ball race and a had running contest. It took some getting used to, but we're now all taking frequent walks between buildings #1 and #2 for meetings, coffee or lunch. And, if construction goes well, in spring 2018, building #3 will be opened. The city center of Wijchen has a lot of Yoasters walking around!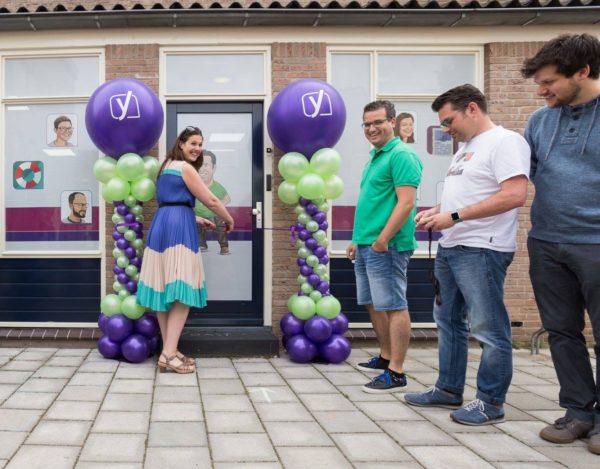 Bring your parents to work day
To many of the activities we undertake at Yoast, we let people bring their partners and children. Most of our colleagues do not have families of their own yet. Some of them even live with their parents. We therefore decided to organize an event, to which everyone could bring their parents: 'bring your parents to work -day'.
We showed the parents around, told them what we're working at and explained about our products and the growth of our company. It was great fun to meet everyone's parents. Next year, we'll definitely organize another 'bring your parents to work-day'. We'll  do a bit rebranding and make it an even more inclusive event: the 'bring your family to work-day'. Some of the little brothers felt left out ;-).
5 years since Yoast hired first employees
In 2012 Yoast hired the first employees. Most of them still work with us today. That's so very special to us! Of course Michiel started out as an employee in 2012, but quickly became one of the co-owners at Yoast. Mijke and Erwin were our 3th and 4th employee's in 2012 and celebrated their 5th anniversary at Yoast this fall. We gave them special editions of Newton's cradle to put on their desk. These cradles should remind everyone how much we love and value the people that work at Yoast. We hope they'll all celebrate their 5th anniversary with us!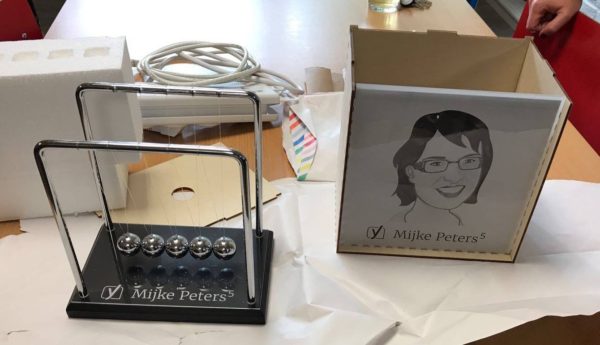 YoastCon 2017
One of the biggest highlights of 2017 was the second edition of YoastCon. It was so very awesome! The venue was gorgeous and we had some great speakers on stage! Most of team Yoast really enjoyed performing our 'Yoast dance' on stage too. And the afterparty!
It was great that part of our support team travelled to the Netherlands to attend YoastCon. As they live so far away (The United States, Philippines, Bangladesh) we communicate with them over Skype. It was great to meet them in person and show them some sights in the Netherlands. We're already planning our next YoastCon in early 2019. Definitely stay tuned!
Teaching children how to code
We started a great project this year to teach children how to write code. A large portion of our development team spent several Tuesday-afternoons at one of our local elementary schools. We taught children how to built their own website and showed them the very basics of HTML, CSS and Javascript. It was a lot of work (10 years olds are always a lot of work), but great fun as well. We're planning to do more courses for more children next year!
2017 was great fun
For Yoast, 2017 was a great year! We had lots of fun! Fun building our plugin and the My Yoast platform, fun developing online SEO courses, writing blog posts and shooting video's. Time for 2018!
Read more: Our most read posts of 2017 »
Coming up next!
Event

September 27 - 28, 2023

Team Yoast is Sponsoring WordPress Accessibility Day 2023, click through to see if we'll be there, who will be there and more!

See where you can find us next »

SEO webinar

21 September 2023

Learn how to start your SEO journey the right way with our free webinar. Get practical tips and answers to all your questions in the live Q&A!

All Yoast SEO webinars »