15 advanced link building tactics & tips to boost your SEO
Link building remains the SEO industry's white elephant. Many proclaim that link building is spammy, dead, and even harmful to your SEO. But link building remains a primary part of an effective performance-based SEO strategy. And when executed properly contributes to higher organic search rankings.

I recently gave a presentation at YoastCon 2019 outlining my white hat toolbox of advanced link building methods. Which I've used for nearly two decades. First as founder and CEO of affiliate juggernaut Pepperjam, later as Chairman of Internet Marketing Ninjas, and more recently as CEO of US-based Top 10 SEO company (and Yoast Preferred Partner) LSEO.com. Some of you have probably heard of some of these tactics and some are probably hearing about these for the first time. Regardless, my hope is to provide you with specific, actionable link building tactics to boost your SEO.

What's important to remember is that each link building tactic should be practiced strategically. This way you derive the greatest long-term benefit for your website. Stop looking at link building as a static tactic to manipulate search engines. Instead, focus on giving users value and building relationships within your industry. Your success will be dictated by your long-term investment in SEO, not short term thinking or tricks.
Why link building remains important
Is backlinking really one of Google's top factors in their algorithm? Yes, link building still remains at the top with content followed closely by RankBrain.

Google's algorithms remain incredibly dynamic, incorporating hundreds of vectors and considerations for each individual search. As sophisticated as search engines become, they'll still rely on users and third parties to help them determine what content is considered useful to users. Links help search engines bridge that gap.

Beyond algorithmic benefits, backlinks serve functional purposes for your website:

Provides referral traffic
Indexes orphaned or isolated pages
Contributes on-page value to readers
Serves as a citation for research
Builds relationships within your existing industry
Really, link building should serve as an extension to an effective content marketing campaign. When you publish new content to your website you should also build links to the page. Much like paid media can help boost traffic to a landing page, so to can a link from a popular website. In the end, they both serve as an advertisement for that page, only one practice is free.
Link building considerations
Competitor research tools like SEMrush and Spyfu provide a treasure trove of important information about links. These tools, and others than focus specifically on backlinks, such as Majestic and Ahrefs, provide insights on the quality and quantity of links pointing to any website you'd like to analyze.

It's important to understand that not all links are equal. Just because a link points to a competitor website in and of itself doesn't justify a strategy to acquire it. In fact, based on your link analysis you may conclude the link should be avoided. Disregarding the addition of a 'nofollow' attribute for a second, it's pretty obvious when a backlink is from a source of authority or spam.

Generally, SEOs search for backlinks that are authoritative and relevant. Determining authority can be based on Moz's newly updated Domain Authority metric or you can dig deeper under the hood to examine specific metrics associated with a particular website, such as total traffic, traffic value, number of new unique visitors, the total number of referring domains to that website, etc.

In terms of link building, the number of unique referring domains is generally more important from an algorithm standpoint, then the sheer number of backlinks pointing to your site. But both are valuable to consider when analyzing links.

For the most part, a large portion of your backlinks will be generated naturally as your website ages and other websites link to your evergreen content. Keep in mind that effective SEO requires you to produce new quality content consistently over time. Producing high-quality content is worth your attention and investment.

Keep these considerations in mind when building backlinks to your website:
Never pay for links as it's a violation of Google's terms of service
Stay away from private blog networks that appear to be owned by a single entity
Don't engage in guest posting opportunities for the sole purpose of link building; Instead contribute high quality content to extend your thought leadership
Build links that improve the on page value of new or existing content
With that said, let's explore 15 advanced link building techniques that will help you improve your SEO performance over time.
Advanced link building tactics
Link reclamation
Link reclamation is the easiest and most straightforward link building tactic readily available for any website. The idea is to reclaim a backlink to your site that previously existed but is now broken or removed.

You can use tools like Moz's Fresh Web Explorer to type in your brand and find any unlinked mentions across the web.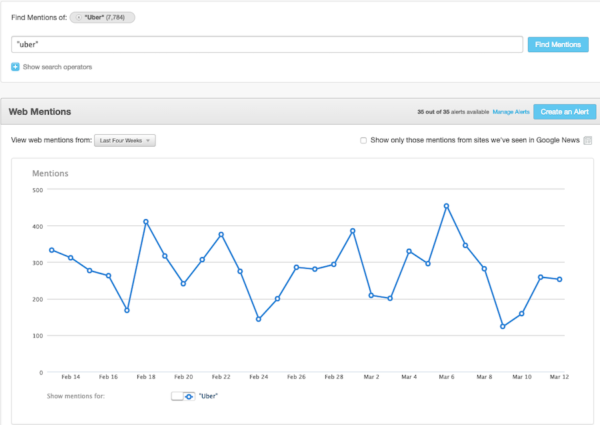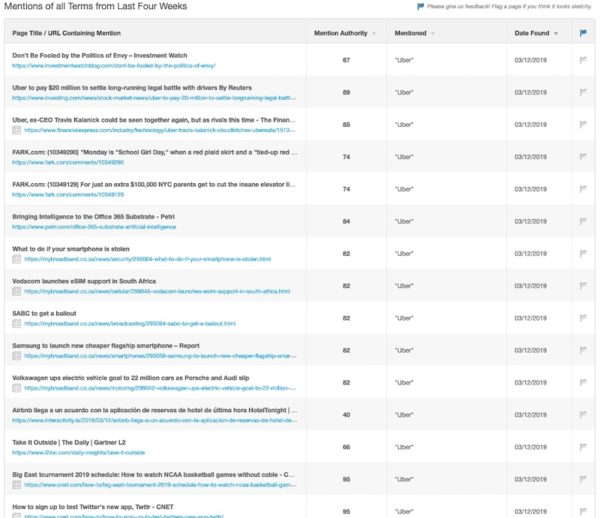 You can use specific search operators to find mentions of your brand and check whether or not the page provides a link back to your website. From there you can reach out to the publisher and request a link back.

Furthermore, you can set up Google Alerts to your email address whenever your website or brand is mentioned across the web. Unfortunately, Moz's tool only goes back four weeks, so this helps you stay consistently on top of your brand and continually finding new backlink opportunities.

Tip: To find an editor conduct a site: search using the domain name followed by the keyword "contact us", "about us", "email", etc.
Broken link building
Broken link building is essentially the same strategy as link reclamation, only it involves leveraging broken backlinks from pages all across the web.

In the interim, you can use this Google Chrome extension to discover any broken links present on a page during your research.

But to find the goldmine of broken links you'll need to do some topic research using SEMrush or Ahrefs. For this example, we'll use Ahrefs.

Type in a keyword related to your industry and use search operators to find the most popular blogs or content publishers in that niche. For example, you can use sites like Quicksprout and Moz for the SEO industry.

Plug the domain into Ahrefs Site Explorer
Click on 'Best by Links' under the Pages tab in the left column
Filter by 404
Click on Dofollow Links and examine the list of pages linking back to that page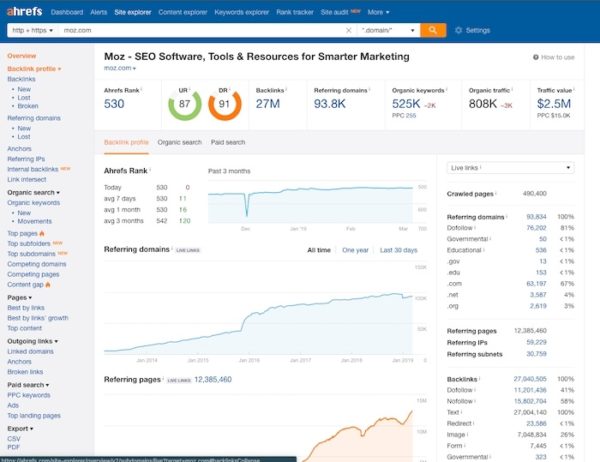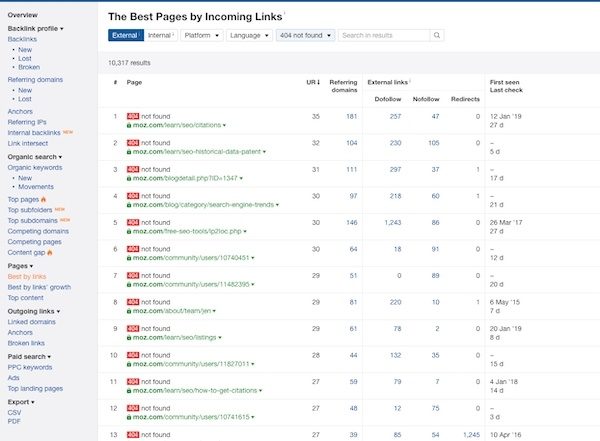 You can also scrape educational resources and blogs related to your industry and filter URLs by 404 using ScreamingFrog.

From there, you could recreate or even improve upon the previous page (called a skyscraper technique – see below) and reach out to publishers letting them know they have a broken outbound link and that you can easily replace it with high-quality relevant content.

Tip: Use this tool to look at what the broken page was and why it was linked to in the first place.
Reverse engineered competitor link building
Leverage SEMrush or Ahrefs to download a CSV of 3-5 of your top competitor backlinks. Filter your spreadsheet and tag by gTLD (.com, .org, .de, etc), industry, geography, DA / PA, traffic, total unique referral domains, and other metrics deemed valuable to your campaign.
The key here is to nerd out on all the data and think through how and why your competitor earned each link and simply do it better. Have fun with disqualifying links you'd never want and celebrate when you know you've got existing content (or have a plan to write new content) that will undoubtedly earn a link from the target site.

This is a good time to define the Skyscraper technique. In short, the Skyscraper Technique is when you identify content that ranks for a keyword you'd like to rank for (or in this case – a link that exists within content you'd like a link) and then you write something that's even better. More on this in a bit, but let's stay focused on reverse engineering competitor backlinks.

Using filters you can look for opportunities related to:
Guest blogging
Influencer relationships
Broken links
Thought leadership pieces
Local reach out
Look for opportunities to join existing conversations with value-added content (i.e. provide a quote, offer a link to research or an infographic) and even go as far as replacing broken or dead links with better content.

This strategy is entirely white hat and offers the best potential to find new relationships in your field. It's not easy. Instead, it's terribly time consuming, but if you want to dominate SEO it's absolutely worth your time and energy.
Resource link building
Resource link building requires manual outreach and has a low success rate. But links acquired through resource link building tend to generate quality website traffic in addition to passing authority to your website.

If you've ever searched for a discount on a particular type of clothing or top clothing store you've typed in something like, "best cheap hats" or even "best men's clothing stores".

Look at the results, they're all great listicles and resources.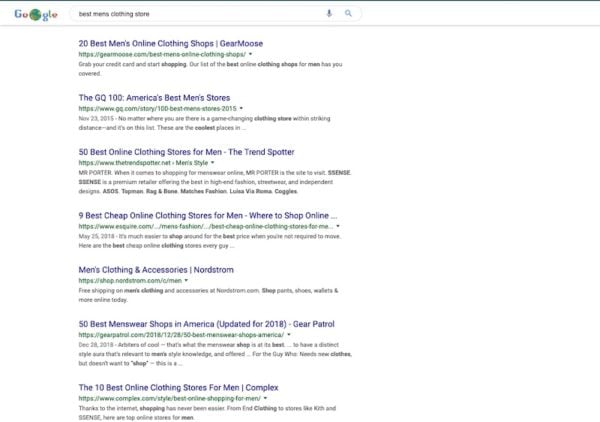 But there are also more sophisticated methods to derive resource pages for both B2B and B2C companies.

This is a good example of a resource page from a major publication in the SEO industry: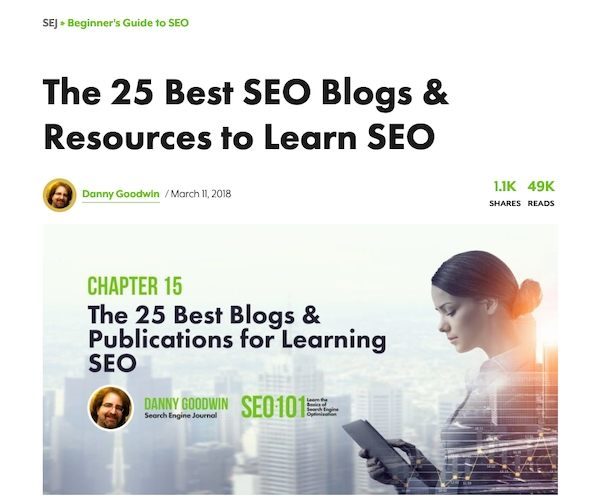 Using this operator string 'Intitle:keyword AND intitle:resources AND inurl:resources' you can find existing resources for business and services in your industry with ultra specific listings.

To find this page, I used the following query: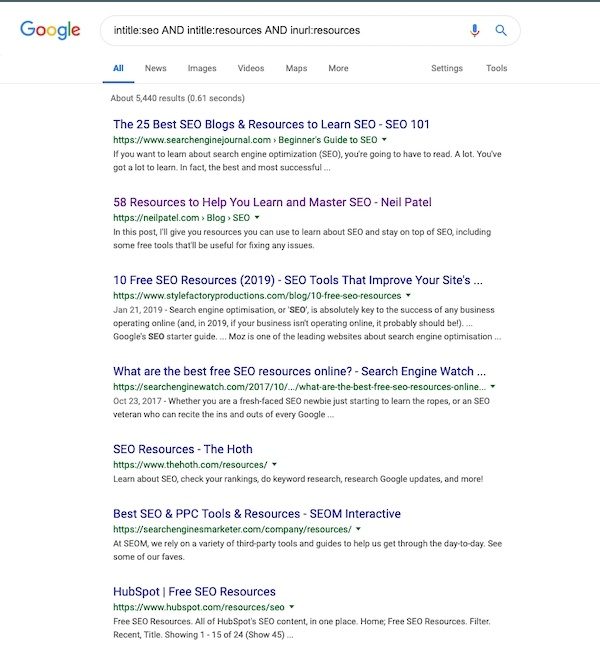 After you find resource pages that are suitable for your company and industry, you can contact the author and ask for a mention. When crafting an email, be sure to stress the value that your business offers its customers and ask what you can do to qualify for that list.
Skyscraper and modified skyscraper
We've mentioned the Skyscraper Technique above as a key way to think about how to build great content that is worthy of a back link. The idea is to find a piece of content ranking highly on Google for a keyword you'd like to rank for and create a better version of the content. "Better" may mean adding a video, writing longer form content, adding useful images and / or infographics, or otherwise extending the quality of the contact that ranks highly for your target keywords.

In truth, the Skyscraper technique requires a considerable allocation of time and resources and there is no guarantee it will work. While it many cases the Skyscraper does indeed work (when coupled with an aggressive link outreach strategy) it's more of a core philosophy around content marketing and link building than a specific SEO tactic. However, don't discredit the approach.

After two decades of experience, I can tell you confidently that building great content is the most effective way to acquire new backlinks to your website over time. Using the Skyscraper technique is absolutely worth the effort since the concept is all about making the necessary investment required to compete at the highest levels of search engine marketing.

Note that you should always strive for your content to be over the top amazing sauce; don't just attempt to be "a little better."

10x content
If you think the Skyscraper technique sets a high bar for content marketing Rand Fishkin's
10x content takes things to the next level. 10x simply means ten times better than all existing content on the web. So how do we do this when we're competing against major brands and publications? Try doing something entirely unique.

Fishkin provides an example of creating a chart of the most trusted movie review sites.

From here, you can use the same follow-up as the skyscraper method to earn backlinks.

Just keep these concepts in mind when crafting a piece of 10x content:
Experiment with new mediums and formats
Be remarkable
Create visceral content
Answer an important question at length and with extensive detail
Keep this in mind – both the Skyscraper technique and 10x content Technique make clear the importance of going over the top when building content. Writing thin content or using dated SEO strategies are highly unlikely to yield long term results.

Guestographics
Piggybacking off of the idea of experimenting with new mediums, I strongly encourage you to experiment with a new form of guest posting using infographics as content. This strategy is called "guestographics."

Remember this little formula: 'Great Content + Targeted Outreach + Added Value = Links'

Use tools like Buzzsumo and Ahrefs Content Explorer to find trending content in your industry. Think through how you can take a trending topic or evergreen content and turn it into an infographic. Instead of submitting a guest post around the topic – you guessed it – submit a high-quality infographic that links back to your site (preferably to Skyscraper or 10x content that you wrote to rank for a target keyword).

You get what you pay for so think big on both sides (e.g. creative + placement). This will likely require that you hire a graphic designer. Consider hiring someone on Upwork or Freelancer to hire an affordable design expert.
Ego bait
Ego bait is a proven performer in performance-based SEO link building and can be used in a variety of ways. The idea is to appeal to an influencer's "ego" by tagging them in a piece of content or the snippet of a post to encourage them to read the post and link back to it in the future.

Targeted sharing serves as a very popular form of ego bait. Other ideas and strategies include:
Creating a post with a reference list of thought leaders that includes a link to their website and/or social media profiles (BTW – I bite for these all the time with link backs. LOL)
Placing @mention to ping thought leaders and mention them in the post.
Email influencers once a post is live and request a comment.
Invite others with influence to contribute content to your site and interview them.
The idea is to encourage interaction between you and an influencer to start a conversation and build a relationship. Being controversial or humorous will increase your chances of getting a response. While the goal is to earn a link to your website you must first give something of value (a compliment, a ranking, a shoutout) in return.
Thought leadership
One of the most effective ways to build links (and recognition) is to become a thought leader. Becoming a thought leader means contributing your thoughts on topics that you are an expert and that you care deeply about. Most people would agree that thought leadership means having your finger on the pulse of your industry and continuing to inspire and educate readers in your industry. Naturally, people will link back to you as a resource because it will naturally help them strengthen their own content.

Here's some ideas to help cultivate your own form of thought leadership:

Podcast interviews in return for a link
Do local media interviews (TV, radio, print, community websites)
Contribute to research (i.e. MOZ Local ranking factors, Special Guest App Talent Booking Surveys)
Create Viral Social Media Content (memes, infographics, studies, data, etc.)
Selectively contribute to industry roundups
Guest post on industry websites and hobby blogs
Speak at industry conferences and events
I've personally contributed to nearly 400 publications, written 3 books (new one coming out in May), and publicly spoke over 100 times, which have created tremendous backlinking opportunities for me. While I don't only do it for the backlink, I always ask for a backlink. Every time.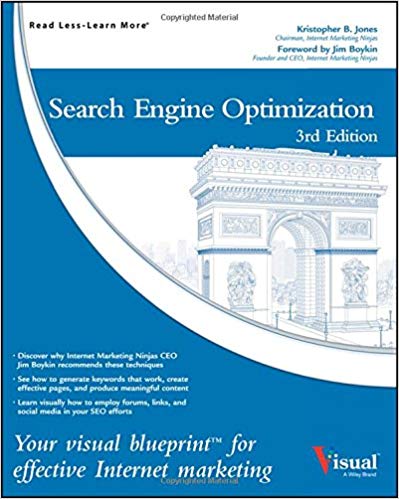 Create original research
Conducting research is one of my favorite advanced link building strategies because of the positive impact it can have on your brand, the value that it can add to your industry, and because if done correctly can result in a lot of high-quality links to your website. The idea is to conduct research via surveys or other means to collect data that answers industry questions or otherwise helps your target audience better understand questions they find curious.

For instance, if you are in the coffee industry you can poll customers to discover the most popular times of the day people drink their second cup of coffee. But also how many cups of coffee people drink on average per day/week/month, preferences around coffee brands (i.e. K-Cup, Nespresso, Starbucks, Pete's, etc) and coffee type (medium roast, dark roast, etc), most popular caffeine alternatives to coffee (i.e., Red Bull, 5 Hour Energy, Tea, etc), and public opinion around whether or not coffee is healthy for you or not.

Once you have enough interesting research data you can write content and publish it on your website (i.e. Top Five Caffeine Alternatives to Coffee). You can do this in one or multiple forms. It is also possible to use the data to contribute content to high authority third party websites. You can also put together a press release announcing the findings. With the goal of the data being used by news agencies or getting picked up by industry websites. Another way is to write a white paper, ebook, or brand your research around an annual industry survey (i.e. Annual Moz Local SEO Ranking Factors).

Research should follow proper protocol call for statistical significance; consider partnering with an academic institution or professor to add authority to your research. Email other industry veterans who would be interested in providing feedback on this research and create a roundup post for additional backlinking opportunities.
Create tools and widgets
If you build a tool or widget that becomes a resource for your industry, the number of organic backlinks you can earn may catapult you to the top of search results for hard to rank for target keywords.

There are two different ways to think about earning links through tools and widgets. One option is to build a tool and host it on your website. For instance, you are a mortgage company hosting a mortgage calculator on your website. It can in and of itself become a valuable reason for people to visit your website. If you are in the digital marketing space creating tools to help people measure keyword density, analyze backlinks, or evaluate keyword rankings, it can make your website a destination for fellow Internet marketers. This can result in free web traffic and links.
A second option is to build a widget that others host on their websites. Make sure it contains a link back to your website. For instance, let's say you own an eCommerce store that allows others to post products for sale. You can create a widget that displays the specific products of each seller. This allows the sellers to post those products via a widget on their websites. Of course, the products will link back to your eCommerce store.

Ensure the tool or widget is functional and creatively leverages your own data or API data from third parties to display info in an easily digestible manner for users. Be creative and prepared to spend considerable resources to get it right. But the upside potential of building a tool or widget that becomes an industry standard can deliver greater ROI than any other advanced link building strategy.
Influencer link building
Influencer link building is especially helpful because it connects you to a pre-established audience of like-minded people.

Identify influencer networks like Intellifluence or Upfluence to find influencers that have websites; there are literally tens of millions of influencers globally. Once you find influencers related to your brand, reach out to them to discuss potential opportunities for promotion.

The key is to offer influencers value before they laugh you off. Consider offering BETA access to software, free high-quality content, a groovy product you'd like reviewed, etc.
Follow guidelines for disclosure in your specific geography. Remember that the FTC in the US requires influencers to disclose promotional partnerships with brands, especially when money is exchanged for promotion.
The moving man method
This next link building tactic is vastly more complex. It also doesn't always yield the highest success rates, but it's something to think about. Essentially, the idea is to secure a link from a page that is tied up in a redirect chain.

It operates on the principle that companies, websites or services constantly undergo rebranding or discontinue their services altogether. This leads to URLs being redirected without the knowledge of site owners who linked to the original URL.

To find these links, you'll need to find an URL that is being redirected on a competitor's site. You can do this by using backlink data you retrieved during competitor research. Enter the URL of the outdated page/resource in any tool that's capable of extracting backlinks for a specific URL (not just the whole domain). Extract these redirected links to a spreadsheet and begin reaching out to publishers. Let them know of the issue and offering to replace the link with a relevant piece of content.


Building a promotional database
Keep the steam of your link building campaign going with the following tactic. You should build a database of partnerships and relationships you've built for future content opportunities.

Each time you have a new piece of content that you want to be promoted or engaged with, follow up with influencers and thought leaders you've connected with in the past. This can serve as an instant traffic boost to your content, especially if you syndicate some of it.
Promote content you want linked!
Finally, the easiest way to get links to content is to get eyeballs on it. Use traditional outreach strategies from email campaigns to paid promotion to drive traffic to a page and see if anyone links back to it.

It's perhaps the most organic link building tactic out there and it provides real value in the interim.

Conclusion
The rules of link building may change every few years or so, but its utility remains the same. If you don't think link building is important, you are wrong. If you don't think there are still white hat tactics to link building, you are also wrong.
As a Yoast Certified Partner, my agency LSEO has helped numerous Yelp users scale their brand using these advanced link building techniques. Take your brand to the next level by adopting some of these link building tactics or find an agency partner that can help!

Read more: 5 link building DON'TS you didn't know about »
Coming up next!
Event

December 09, 2023

Team Yoast is at Attending, Organizing, Sponsoring WordCamp Ahmedabad 2023! Click through to see who will be there, what we will do, and more!

See where you can find us next »

SEO webinar

12 December 2023

Learn how to start your SEO journey the right way with our free webinar. Get practical tips and answers to all your questions in the live Q&A!

All Yoast SEO webinars »