Yoast SEO 21.4 brings more enhancements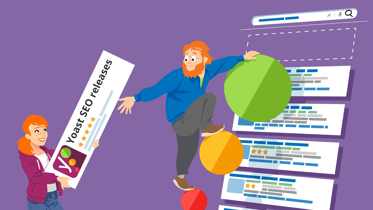 We are excited to announce the latest release of Yoast SEO, helping you optimize your website's performance in search engine results. This update improves our features and brings enhancements that will take your SEO efforts to the next level. Get ready for Yoast SEO 21.4!
More assessment improvements
At Yoast, we understand the importance of writing content that resonates with your audience and search engines. We help you achieve this delicate balance with our readability tools. Using these with our SEO analysis, you can ensure your content is ready for prime-time.
The readability assessments study the readability of your content and provide insights into how to improve it. We're constantly refining these features, offering a better view of how your content appears and what you can do to make it more appealing to users.
In Yoast SEO 21.4, we've made various improvements to the assessments. For instance, we've improved the keyphrase matching in the keyphrase density assessment. Plus, we've made the highlighting for the keyphrase density and single H1 assessments more robust. Keyphrase matching in Japanese is better because we can now match keyphrase occurrences containing upper-case characters.
With these improvements, you will gain deeper insights into the readability of your text and receive actionable recommendations to make your content more accessible to a broader audience. Whether you are a seasoned writer or just starting your SEO journey, the readability analyses will be your trusted guide in creating content that perfectly balances sophistication and clarity.
Update now to Yoast SEO 21.4
Upgrade to the latest version of Yoast SEO and unlock a world of possibilities for your SEO. With improved features, enhancements, and refinements, this release is designed to elevate your SEO efforts to new heights.
Coming up next!
Event

December 09, 2023

Team Yoast is at Attending, Organizing, Sponsoring WordCamp Ahmedabad 2023! Click through to see who will be there, what we will do, and more!

See where you can find us next »

SEO webinar

12 December 2023

Learn how to start your SEO journey the right way with our free webinar. Get practical tips and answers to all your questions in the live Q&A!

All Yoast SEO webinars »