Yoast SEO 20.8: Fixes, enhancements, and a new Premium feature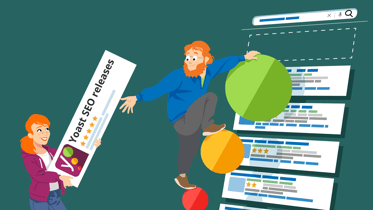 Here's another release of our SEO plugin, Yoast SEO 20.8. We've improved our SEO analysis in this release and fixed several issues. In Yoast SEO Premium, we've added a new column in the post overview to quickly see your posts' inclusive language scores.
Improved language analysis
Content is vital for successful SEO. Yoast SEO's language tools assist in creating quality articles. The update to the SEO analysis improves the keyphrase density assessment feedback. The feedback used to be specific to the focus keyphrase, but it now refers to the keyphrase in general, making the feedback more comprehensive and valuable.
Additionally, this update improves the accuracy of content analysis by excluding texts within textarea tags from the analysis. This exclusion ensures that the analysis is based solely on relevant text and produces more accurate results.
Monitoring your inclusive language scores
Not long ago, we introduced the inclusive language analysis. The inclusive language analysis in Yoast SEO works similarly to our readability and SEO analyses. It uses red, orange, and green lights to guide you. You can write any post or page as usual, and the inclusive language feature will assess your content.
The feature provides feedback divided into categories such as age, gender, race, and socioeconomic status. This valuable feedback helps you improve your content, making it appealing to a broader audience. You can create more relevant and inclusive content that resonates better with your readers or viewers through the inclusive language feature.
With the latest version of Yoast SEO Premium, we have introduced a new feature that simplifies finding and improving your content in WordPress. You'll now notice an additional column in the post overview, represented by a heart in a speech bubble icon. Different colors signal if a post needs work on the inclusive language part. Green, of course, is good. You can filter your posts list by clicking the icon, making the entire process even more straightforward. This feature aims to simplify your workflow and streamline your content management experience.


Bugfixes in Yoast SEO 20.8
This Yoast SEO update resolves several issues. First, it fixes several bugs in our indexable database system. These fixes make the system more robust. We've also fixed a bug where the SEO and Readability score icon would not show a sad emoji when the post was empty or there was no set keyphrase. These issues have been addressed, and Yoast SEO offers a better user experience.
Security fix in Local SEO 15.0
We've improved the security of our Local SEO plugin. This update addresses a security vulnerability that the WordPress security service Patchstack and our security/development team identified and reported. With this update, we have addressed and fixed this issue. We recommend that all users update their Local SEO plugins to this latest version to stay protected from potential security threats.
Update now to Yoast SEO 20.8
Yoast 20.8 is out today, ready for you to download. In this release, we fixed several bugs, added some enhancements, and brought a new feature to Yoast SEO Premium, bringing inclusive language insights into the post overview of your WordPress site.
Coming up next!
Event

December 09, 2023

Team Yoast is at Attending, Organizing, Sponsoring WordCamp Ahmedabad 2023! Click through to see who will be there, what we will do, and more!

See where you can find us next »

SEO webinar

12 December 2023

Learn how to start your SEO journey the right way with our free webinar. Get practical tips and answers to all your questions in the live Q&A!

All Yoast SEO webinars »