Yoast SEO 18.3: More fixes and enhancements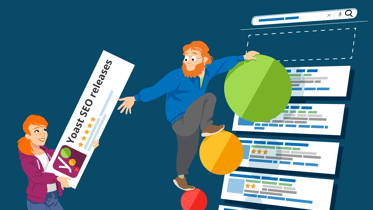 Today, we're releasing version 18.3 of Yoast SEO. For this release, we did another round of fixes and improvements. We've improved the importer, enhanced the HowTo blocks, and fine-tuned an assessment. Ready to update to Yoast SEO 18.3? Also, don't forget to read about the feature that should have been in this release.
Fixes and enhancements in Yoast SEO 18.3
As always, we are hard at work improving your favorite WordPress SEO plugin. Sometimes we do this by adding significant new features like the SEO workouts that are very visible. Other times, we do this by fixing bugs and adding enhancements that make the plugin more stable and enjoyable to use. Both are important!
In Yoast SEO 18.3, we've improved the importer so you can now import post_meta, robot_txt, and search appearance options when moving from All-In-One SEO to Yoast SEO.
We fixed several bugs, like one where URLs in the XML sitemaps in certain edge cases would potentially be mangled, most notably when schema-relative URLs were used. In addition, we fixed two issues with the HowTo blocks. The first one concerned HowTo images that would not be optimized if they did not start with the site URL. The second one involved a bug where HowTo images with custom width would lose their custom width in the Twenty Twenty-One theme.
Last but not least, we've improved the feedback strings for the Keyphrase Length assessment. We now make it more explicit that we only count content words for languages with function word support.
Update now to Yoast SEO 18.3
That's it for today's release of Yoast SEO 18.3. We hope you enjoy this new release. Stay tuned for more exciting additions in the coming weeks!
Check out Yoast SEO 18.4.1.
Coming up next!
Event

October 04, 2023

Team Yoast is at Attending, Organizing Yoast Contributor day 2023 - October edition! Click through to see who will be there, what we will do, and more!

See where you can find us next »

SEO webinar

12 October 2023

Stay ahead of the curve in the fast-evolving world of e-commerce & explore key trends & emerging opportunities. Register for "E-commerce Trends 2023" now!️

All Yoast SEO webinars »