Yoast SEO 5.5: Introducing SEO roles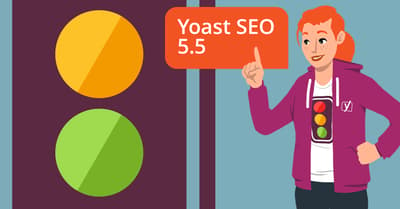 We've got good news for site managers and site owners: Yoast SEO 5.5 now supports SEO roles. It's no longer all or nothing for users of Yoast SEO because two new roles with several capabilities let you make more deliberate decisions about who has access to what SEO settings in the backend. By using a WordPress permission plugin, you have even more fine-grained control over roles and capabilities. Let's dive right in!
Managing SEO roles with Yoast SEO 5.5
The most prominent feature of Yoast SEO 5.5 is SEO roles. Let's say you have editors working on your site and you want them to be able to manage redirects for themselves. Previously, these editors had to ask you as a site administrator to do this for them because they didn't have access to the redirects manager. Now, you can grant them access to these particular parts of the plugin. Two new roles, the SEO editor and SEO manager, make for a much more flexible solution when working with multiple people on your site. The administrator can determine who gets to see and do what, while the users get the tools they need to do their work.
I've written a separate post explaining the SEO roles in Yoast SEO in more detail.
Other new features
SEO roles are just one of the new additions to the plugin. Yoast SEO 5.5 is a massive release, with loads of great stuff. Let's look at a couple of highlights.
Redesigned dashboard widget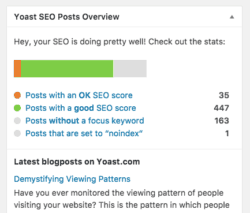 Your WordPress dashboard should give you important information at a glance. Our old dashboard widget was in desperate need of a new coat of paint and an overhaul of its contents. The new widget now shows you how your SEO is doing. You'll see how many posts have good SEO score and how many are just OK or which ones don't have a focus keywords attached to it. Keeping up with our SEO articles has become much easier since we've added links to the most recent posts on yoast.com.
Redirects manager access, plus redirects filter
The redirects manager in Yoast SEO Premium also has a new role within the plugin. Premium users can now make the redirects manager available to other contributors, without them having to have special access. It's even available in the menu!
We've added something else to it: you can now filter redirect types in the redirects manager. This way, you can quickly find all your 410 Content Deleted redirects, for instance, and manage them in a jiffy. If you're not using the redirects manager, you're missing out on a killer tool that'll save you loads of time and headaches.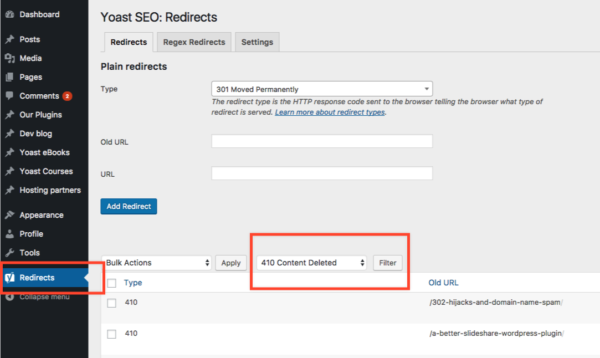 Focus keyword export
Last, but not least in Yoast SEO 5.5 Premium: Focus keyword export! Select the data you need – keywords, URL, readability score and/or title – and you'll get a file with an excellent overview of how you use focus keywords on your site. You can quickly see which posts or pages need work! And yes, this works for content that has multiple focus keywords as well.
Update now!
Yoast SEO 5.5 is chock full of new features, enhancements, and fixes. This post doesn't nearly describe all the changes in this release. We're very proud of the new SEO roles as these will make site managers much more flexible in permitting users to various parts of the plugin. We hope you like this new feature as much as we do. Happy updating!
Read more: Why every website needs Yoast SEO »
Coming up next!
Event

December 09, 2023

Team Yoast is at Attending, Organizing, Sponsoring WordCamp Ahmedabad 2023! Click through to see who will be there, what we will do, and more!

See where you can find us next »

SEO webinar

12 December 2023

Learn how to start your SEO journey the right way with our free webinar. Get practical tips and answers to all your questions in the live Q&A!

All Yoast SEO webinars »