Yoast SEO 11.8: Improving Yoast SEO with the help of the community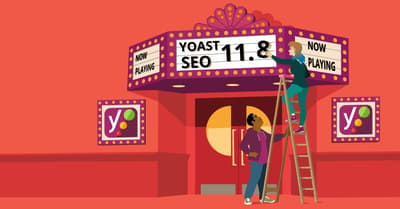 Release history tells us that the releases in the months of July and August are usually very quiet. Due to vacations from team members, the focus usually lies on fixing bugs and cleaning up. Not for Yoast SEO 11.8! This new release gives you an enhanced meta box, an improved Schema output and bug fixes, some of which powered by contributors from outside the company! Here, we'll tell you everything about the all-new Yoast SEO.
Meta box enhancements
The observing Yoast SEO user might have already noticed the changes in the plugin's meta box the past few releases. In this all-new release, we've updated the meta box once more! The advanced tab has been moved to the SEO tab – you'll find it as a collapsible header now – and the social settings have been updated as well. This is how the meta box looks right now: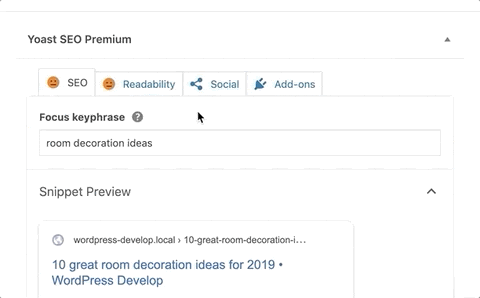 We've also fixed a bug where the snippet title and meta description fields would still be left-to-right when the website was set to a right-to-left language.
Bug fixes
Of course, we've fixed more bugs! In Yoast SEO Premium we've fixed a bug where RegEx redirects that started with a forward slash could not be deleted.
And thanks to contributors, Yoast SEO 11.8 also fixes a bug where the plugin used the WP_query->get_posts() function wrong. This could cause the return of wrong results. So, good job, contributors! And that's not the only contributor fix; find them all in the Yoast SEO changelog!
On top of this, we've fixed a bug in Video SEO. You can find the entire changelog here.
Schema updates: we've got them!
Were you waiting for the Schema updates again? We've got that covered for you!
A quick recap: in Yoast SEO 11.7 we've added a subset of HTML tags for the HowTo and FAQ blocks when creating a post. Among those, is the ability to link to other posts. When Google shows your HowTo or FAQ block as a rich search result, they might also display the internal links you added. This way, you can get more people to click through to your content directly, instead of just giving them the full answer in Google search results.
In Yoast SEO 11.8, we've also improved the sanitization of the Schema output. This means that with this new update, the plugin has become even more secure.
Contributor Emily Leffler Schulman
Recently, we've received no less than 9 contributions from Yoast SEO user Emily Leffler Schulman. At Yoast, we understand why contributing to open source projects is important and it seems like Emily shares the same philosophy as we do! We've asked her several questions that might be on the tip of your tongue as well.
Emily is a freelance WordPress and UI developer, and she's a true problem solver: she works with small business, associations, and universities. You can find more about her on her website.
When asked why she decided to contribute to Yoast, she answered: "Open source projects offer such an amazing opportunity to learn and expand in a team environment. After freelancing for over a decade, I'd found that the technical skills I needed to collaborate with other developers were becoming atrophied so I started contributing to WordPress plugins to stay fresh. Yoast SEO has been a mainstay of every site I've built, so it made sense to work on something that was both familiar and valuable to me. "
She uses Yoast SEO for everything and is a frequent visitor of the Yoast blog as well: "Yoast's blog posts are really helpful reference material for explaining SEO techniques to my clients in laymen's terms and the developer portal is a professional go-to for staying abreast of changes in the SEO ecosystem. I'm so impressed by how supportive and positive Yoast's contributor community is."
Want to contribute to Yoast SEO?
Do you want to contribute to Yoast SEO just like Emily or the other contributors do? Emily has one last tip for you:
"Just do it! If you're into making things, open source projects are a great way to give back to something awesome."
At Yoast, we'd love to be able to write your name in our changelog as well!
Update to Yoast SEO 11.8!
Yoast SEO 11.8 is out now and as always, you can update this through your website's dashboard. Go update!
Coming up next!
Event

December 09, 2023

Team Yoast is at Attending, Organizing, Sponsoring WordCamp Ahmedabad 2023! Click through to see who will be there, what we will do, and more!

See where you can find us next »

SEO webinar

12 December 2023

Learn how to start your SEO journey the right way with our free webinar. Get practical tips and answers to all your questions in the live Q&A!

All Yoast SEO webinars »