Yoast SEO 11.2: Schema enhancements and more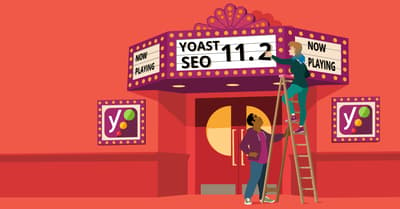 Today, we're releasing Yoast SEO 11.2 into the wild. This release contains several enhancements to our Schema structured data implementation, plus a number of community contributions and general bug fixes. In this post, you'll find everything you need to know about Yoast SEO 11.2, so dive in!
More Schema improvements
These past couple of weeks saw quite a bit of development in the structured data department. In Yoast SEO 11.0, we launched a structured data implementation that automatically generates a graph for any given website and its pages. In Yoast SEO 11.1, we improved the way we handle images in structured data, among other things. We said we wouldn't be done on the Schema front for some time. Well, Yoast SEO 11.2 brings even more structured data goodness.
Image improvements
As mentioned in the release post of Yoast SEO 11.1, we've been working on a better way to pick images correctly for use in the generated structured data. In this release, we're introducing a new way to make sure we always include an image in the structured data. Now, we pick the first image in the content for the Schema output if you haven't set a featured image.
Tailor the Schema output
Of course, it's possible that you'd like to incorporate your own Schema pieces into our graph. We already have the wpseo_schema_graph_piecesfilter to help you extend the Yoast SEO Schema. This way, you can tailor the implementation to your own needs. In addition, we're now introducing a new filter that will help you control what Yoast SEO outputs. The new wpseo_schema_needs_<class_name> filter helps you disable or enable specific pieces of the graph.
Last but not least, we've also added a filter called wpseo_schema_person_social_profiles for adding or deleting social profiles to show. Read our Schema API documentation to find out how our Schema implementation works and how you can tailor it to your needs.
Community help
Yoast SEO 11.2 is a community-driven effort. We love getting outside help, so thanks everybody. In this release, David Tolnem and Saša Todorović came up with a filter for adding posts with a custom post statuses to the sitemap: wpseo_sitemap_post_statuses. This means you can now use the custom post statuses made in tools such as Edit Flow and add these to the sitemap. Saša also helped fix a bug together with Jessica Zehavi. This one was a bug where URLs with a non-Yoast SEO related xsl query string parameter would result in a blank page.
Rami Yushuvaev helped us make translating the plugin easier by merging near identical strings and he fixed a bug concerning an incorrect URL leading to Pinterest's claim page.
Better sitemap debugging
To help you debug your sitemaps, we've decoupled the sitemap debug information from the general WP_DEBUG flag. Instead, we now offer the YOAST_SEO_DEBUG_SITEMAPS flag to better control this functionality. Now, we can output more specific debug information on the sitemap pages.
Update away!
Yoast SEO 11.2 fixes several bugs and enhances the Schema implementation. Thanks to our highly valued community, we have a number of fixes and improvements. We always enjoy seeing so many people contribute to our open source plugin. Interested in contributing? Please read our contribution guidelines on GitHub.
Read more: Yoast SEO 11.3: Even more enhancements »
Coming up next!
Event

December 09, 2023

Team Yoast is at Attending, Organizing, Sponsoring WordCamp Ahmedabad 2023! Click through to see who will be there, what we will do, and more!

See where you can find us next »

SEO webinar

12 December 2023

Learn how to start your SEO journey the right way with our free webinar. Get practical tips and answers to all your questions in the live Q&A!

All Yoast SEO webinars »