Yoast SEO: robots meta configuration
Preventing individual posts or pages from showing up in Google's index
Noindex a category, tag or custom taxonomy at once
Avoid duplicate content by noindexing the author archives
or Download the free version »
Whether you want to keep a single post or page out of the index, or you prefer to keep entire sections of your site unfindable: the Yoast SEO plugin has your back. For each post, page, taxonomy page or archive you can choose whether you want it 1) to be indexed, 2) to be followed. If you choose noindex, Google won't add this page to the index. If you choose nofollow, Google won't pass value through the links on that page. This feature is available in both the free version of Yoast SEO and in Yoast SEO Premium.
Why noindex a page or a part of your site?
Some pages of your site you don't want Google to index. You might have pages on your site that shouldn't show in the search results because of legal reasons. Or you don't want Google to index pages with thin or low quality content. Other content you might want to noindex is your author archive if you just have 1 author. In that case, your author archive will show the exact same posts as your blog archive, which causes duplicate content. You can do all this with the Yoast SEO plugin. Read on to learn how to do this!
We think you should keep some pages for sure out of the index, for example your internal search results pages. Therefore Yoast SEO does this by default.
How to set noindex or nofollow?
You can set this on a site wide basis, indicating whether you want a certain post type or taxonomy to be indexed. Or you can set it for an individual post, page or taxonomy, with help of the Yoast SEO meta box.
Site wide settings for meta robots
It's possible to noindex posts, pages, media, date archives, categories, tags and subpages of archives on a site wide basis. You can do so in the Search appearance section of Yoast SEO. There you'll see various tabs:

In the unlikely case you'd like to noindex all your posts, for example, you can go to Content Types, where you'll see 'Posts' on top. If you move the bar to 'No' none of your posts will be shown in Google. In most cases though, you'd want this to be 'Yes' of course: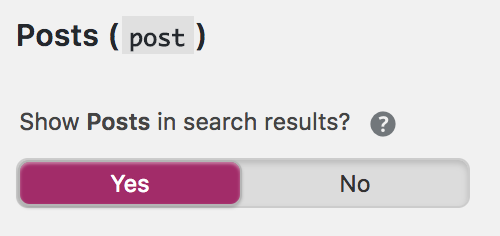 You can do the same for archives or taxonomies in the respective tabs. If you've used our configuration wizard, in which you've answered questions about your website, these settings will be set in such a way that in most cases you won't have to look at them at all.
Single post or page configuration
In the Yoast SEO meta box, under the "advanced" button, is a meta robots settings block that allows you to choose to noindex or nofollow that specific post, page or taxonomy. 
When you're working on a post, page or taxonomy in WordPress, the Yoast SEO meta box is located under the content editing block. The default setting for a page is "index, follow", but this can be changed easily on the advanced tab: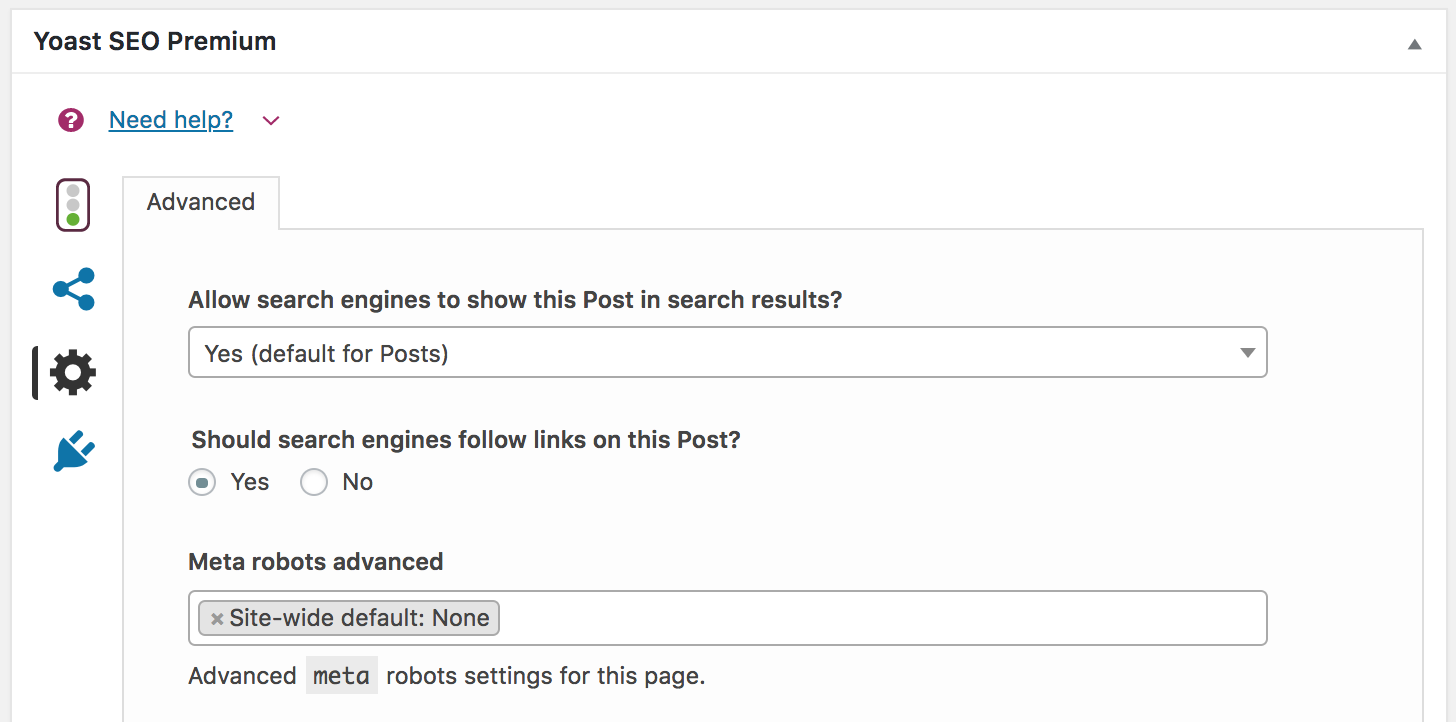 More on robots.txt and the robots meta tag?
Would you like a bit more technical background on this? Then you should read this Ultimate guide to robots.txt and The Ultimate guide to the robots meta tag by Joost.
Yoast SEO for WordPress training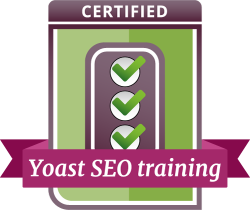 Want to get to know all possibilities of Yoast SEO? In this training we'll explain all features and functionalities of Yoast SEO. You'll learn how to use it to it's full extend! Take our Yoast SEO for WordPress training and become a Yoast SEO for WordPress expert.
Optimize your site for the right keywords for your users
Avoid dead links in your site
Get previews for sharing on Twitter and Facebook
Content quality and link suggestions as you write
More info