Yoast SEO assessment: Keyphrase density
What does the keyphrase density check do?
The keyphrase density check assesses whether you've used the word or words from your focus keyphrase often enough in your copy. It also checks if you use the keyphrase not too often in your text. In the free version of Yoast SEO you'll get a green bullet if your keyphrase density lies between 0.5 and 2.5%. For a match to be counted, all words should occur in one sentence, but the order of the words may differ. In Yoast SEO Premium also different word forms are recognized.
Let's say you'd like to rank for [bake vegetarian pancakes]. If you write, "here, you'll learn how to bake the best vegetarian pancakes" this will be counted as an occurrence of the keyphrase. Also, in English, if you'd write, "baking a vegetarian pancake is easy as pie" Yoast SEO Premium recognizes that as the focus keyphrase. That's why, the upper boundary in Premium is a bit higher: 3% instead of 2.5%.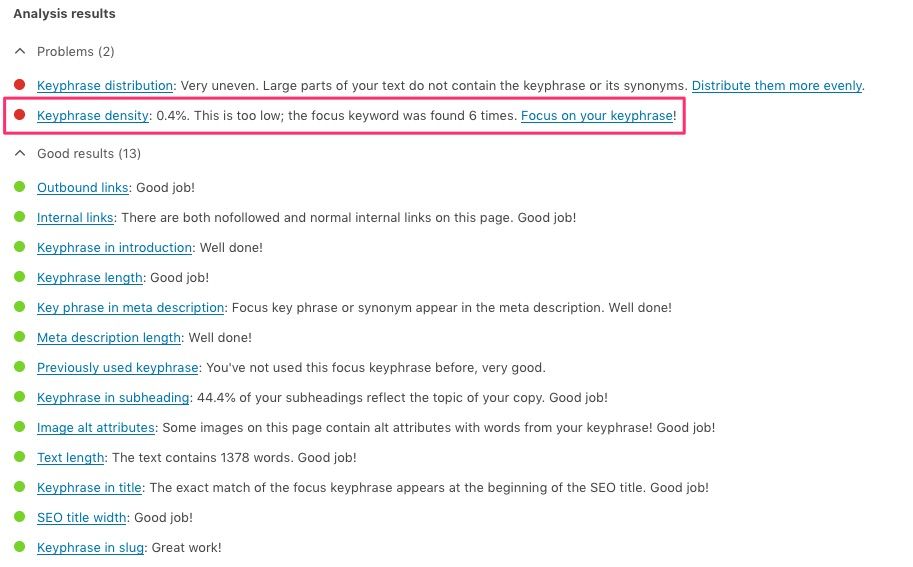 Why is keyphrase density important for SEO?
Google tries to match a user's search query to the best fitting web pages. To match your web pages with a certain query Google needs to understand what your web page is about. That's why you should use your keyphrase, the phrase you'd like to rank for, in your copy. This often comes naturally. If you'd like to rank for, for instance [bake vegetarian pancakes] you probably use this phrase regularly throughout your text.
If you write a text, it can occur that you'll use the words from your keyphrase in a different order or with other words in between in a sentence. As Google will recognize this as the same keyphrase, our analysis will count it as an occurrence of the keyphrase as well.
If you repeat your keyphrase very often in your copy it becomes unpleasant to read for your visitors. That's something you should avoid at all times, because you want users to enjoy and understand your copy well. It's also a signal to Google that you might be stuffing keywords in your text – also known as over optimizing. As Google likes to show the best result to users, both in relevance and readability, this can negatively affect your rankings.
Want to improve your keyphrase density?
If your keyphrase density score is too low (<0.5%) you should use the keyphrase more often in your text. Check your copy and make sure you make clear what you're writing about. Stay on topic! If the keyphrase density is too high (>3%) you're using your keyphrase too often. Your text possibly looks a bit spammy. Go through your text and see if you can replace the keyphrase with synonyms or different words.
Optimize your site for the right keywords for your users
Avoid dead links in your site
Get previews for sharing on Twitter and Facebook
Content quality and link suggestions as you write
More info