Canonicals in Yoast SEO
Let Google know where to find the original version of your content
Canonicals are automatically set for every type of page
When needed, it allows you to easily add a canonical yourself
or Download the free version »
Read more about this feature in the free and Premium Yoast SEO plugin!
What does a canonical do?
The canonical link element has been introduced by Google to distinguish the 'original' page from derivative pages within your site carrying the same content. It can happen that the same content on your site is available on various URLs. To avoid confusing Google (and the user), you can tell search engines which URL contains the original content.
For instance, a product of your online shop can belong to three different categories. As the categories are reflected in the URL, it can be reached through three different URLs. This is a problem because you only want one of these URLs to rank in Google's search results, since the content on those three URLs is the same. You don't want to confuse visitors about which URL to select. And you don't want to confuse Google about which URL to display. By setting a canonical you can choose which URL should be shown in the search results.
What does the Yoast SEO plugin do?
Nowadays, canonicals are used on every page of your website. For example, you wouldn't want your indexed URLs containing campaign tags, such as the utm_campaign tag. You want Google to display the 'clean' URLs. Therefore, WordPress sets up a canonical for single posts and pages. But WordPress doesn't do this for any other type of URL on your website. Here's where the free Yoast SEO plugin comes in: it adds a canonical to your homepage, category archives, tag archives, date archives and author archives.
How does it work?
The answer to this question is easy! A canonical will be set by default, so it won't involve any extra work at all! It's what we call one of the 'hidden features' of the Yoast SEO plugin:
Manually change the canonical
If you want to, it's possible to change the canonical on a page-by-page basis. You can do this in the meta box beneath a post or page. There, under 'advanced', you'll find a box to set the canonical URL. This box is empty by default, and only needs to be filled in if you would like to change the default settings. So, don't worry if it's empty, because a canonical which points to the proper URL is set for every page!

You might want to manually change the canonical, for instance, if you post an article on your website that was previously published on a different website. By pointing the canonical to original URL, you'll make sure that this other website shows up in Google (as they are the original owners of the content). But at the same time this gives your readers the opportunity to read this specific article on your website.
In the security tab of the general settings of the Yoast SEO plugin, you can choose whether you want to give 'authors' and 'editors' control over the advanced part of the SEO meta box. And thus allow them to set a canonical link for a specific post or page.
Best practices
We've written an extensive article about why and how we should use canonicals. Check it out if you want know everything about rel=canonical.
Yoast SEO for WordPress training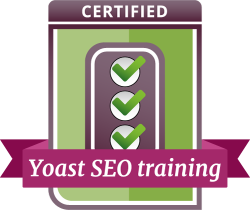 Want to get to know all possibilities of Yoast SEO? In this training we'll explain all features and functionalities of Yoast SEO. You'll learn how to use it to it's full extend! Take our Yoast SEO for WordPress training and become a Yoast SEO for WordPress expert.
Optimize your site for the right keywords for your users
Avoid dead links in your site
Get previews for sharing on Twitter and Facebook
Content quality and link suggestions as you write
More info