WordPress 5.7: What's new in this release?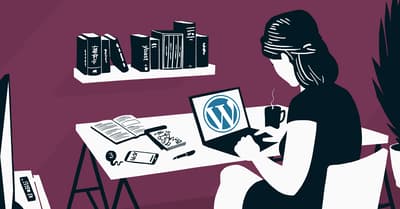 Thanks to contributors from all over the world, the improvements to WordPress are never at a standstill. This continuous work on WordPress is reflected in the number of new features that can be found in any new release. The latest release of WordPress 5.7 "Esperanza" is no exception. It comes with a few great enhancements, both in core and the editor. Let's take a look at what this release brings to the table!
Dragging and dropping blocks into your post, improvements to your reusable blocks, migrating from HTTP to HTTPS with the click of a button, and lots more. WordPress 5.7 has a few nifty enhancements in store for you that can help you manage your content and improve on a few technical points.
1. An easier workflow in your editor
This release comes with a few improvements to the Gutenberg block editor. These changes will help you take more control of the layout of your pages without having to dive into any code.
Drag and drop your content
If you're familiar with the block editor in WordPress, you'll know that it allows you to use blocks to add content to your page. Now, with the WordPress 5.7 release, you can go to 'Add new block' and easily drag the block of your choice into the editor. Similar to the way that other page builders like Divi are already doing this. Kind of cool, right? This makes working with the block editor a more seamless experience.

Impress with full-height blocks
Another addition that WordPress 5.7 brings to the editor is the use of full-height blocks. Before, the block editor already came with a few blocks that you could use to fill the entire width of the screen. With the addition of these full-height blocks, you can create even more noticeable layouts that fill in the entire height of your site visitor's screen. Play around with these new blocks and impress your site visitors with a visually impressive website.
More options for your buttons
One of the many blocks in the block editor is the Button block. This block makes it easy to add a button to your page in the style of your website. With the release of WordPress 5.7, you can now also align the content in your buttons vertically. In addition, this release comes with a preset percentage for the width of your button. Giving you more freedom in where to place your buttons and what they will look like.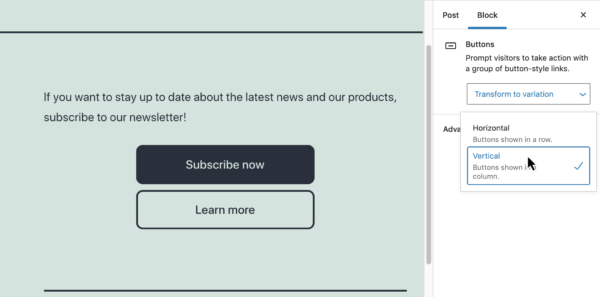 Change the size of your social icons
Another block that has been improved on with WordPress 5.7, is the Social Icons block. This block allows you to drop social icons into your page wherever you want them to appear. And now, with the latest release, you can also adjust the size of these icons to a size of your choice. Allowing you to be in control of how much focus there is on these icons.
There are also several improvements to the reusable blocks, making them more stable and easier to use. Adjusting the size of your font is now available in more blocks, such as the List and Code blocks. Plus, block variations can now also come with a description and preview in the block inspector. Go and check them out!
2. Easily migrate from HTTP to HTTPS
Securing your site with an HTTPS connection is critical nowadays as it protects user information, files and other data that is being hosted on your site. In addition, it's good to know that everything new and upcoming on the web requires this secure mode on your site.
With this release, WordPress can detect whether a site runs on a hosting package that uses HTTPS but hasn't made the move from HTTP yet. And with a one-click update process, you can easily migrate to HTTPS, while WordPress automatically updates database URLs where possible. Now is as good a time as any to activate that SSL certificate, check your settings and make that one-click move if you're still using HTTP.
3. A new and simpler color palette
Up until now, WordPress came with a limited set of color schemes in the backend. In addition, introducing custom color schemes was quite difficult because of how this system was set up. Now all of that has changed. WordPress is implementing a CSS custom properties system that makes it way easier to add custom color schemes.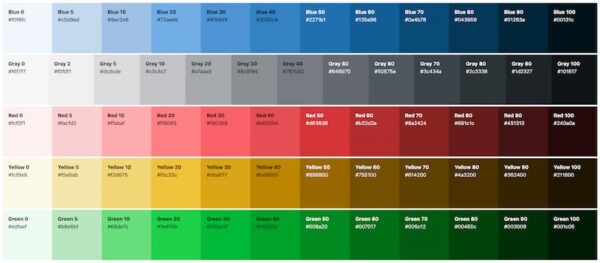 The new color palette WordPress 5.7 has introduced collapses all of the colors in the WordPress source code down to seven core colors with a range of different 56 shades. All of which meet the recommended contrast ratio (of WCAG 2.0 AA) when placed again white or black. All of the seven core colors start at white and get darker with the same amount of 'darkness' on each shade towards dark. You can find this new and simpler color palette in the default WordPress color scheme. It offers developers a color palette with a wider range of light and darker color schemes.
4. Lazy-loading: now available for iframes
With the WordPress 5.5 release in August 2020, default lazy loading for images was introduced. Lazy loading means that an image or object on your site doesn't load until it appears in your visitor's browser. This is done to decrease loading time for a page, and with it, improve the speed of your site.
Now, lazy loading is also possible for all embeds that use iframes. For example, a YouTube video that you embed on your page. All you need to do is add the following attribute to your iframe tag: loading="lazy" and you're good to go!
5. New Robots API
WordPress 5.7 also comes with a new Robots API that makes it possible for developers to manage the robots meta tag on a page. With a new function named wp_robots they will be able to manage the robots meta tag by adding their own filters. In addition, this new API includes a setting to control whether search engines are allowed to display large media from a site. If you want to learn more about this, check out our ultimate guide to robots.txt.
Why are we telling you this? Because, by default, the directive 'max-image-preview: large' will be added into the robots meta tag and this means that your image previews will be available at a larger resolution in the search results. Google, for instance, uses images served like this in Google Discover. Of course, this tag will automatically be hidden for websites that are marked as not public.
6. Final step in moving to jQuery 3.5.1
With the release of WordPress 5.7, we're also at the third and final step of making the jump to jQuery 3.5.1. The purpose of jQuery is to make it much easier to use JavaScript on your website and this latest version comes with improvements in regards to features, security and so on. The WordPress team has been working on this migration for a while now, with the first step being taken in WordPress 5.5. With this release, they're at the final phase. This does mean that theme and plugin developers need to make sure their code is compatible with the latest version of jQuery.
If you're a WordPress user that doesn't work with jQuery, this ongoing cleanup means that you'll get less messages about this migration on your dashboard. And they will be in plain language.
WordPress 5.7 and Yoast SEO
At Yoast, we realize how important WordPress is and that's why we always prepare for upcoming changes to this platform. Last week we've released a patch of Yoast SEO in anticipation of this WordPress 5.7 release. This patch is to prepare our Yoast SEO users for two features in this release.
The changes to how WordPress outputs robots tags means that we had to make some changes in Yoast SEO. We've made sure that our plugin continues to work with these tags as before and that your SEO is not affected. In addition, we've made some changes to auto-updates as automatically updating your plugins is a relatively new feature in WordPress. What we're opting to do is that when you enable auto-updates for Yoast SEO, we also enable them for our other add-ons such as Yoast SEO Premium.
Time to test and update
Of course, we haven't mentioned everything that's new in this latest release of WordPress. If you're interested in reading more about every new feature, take a look at the WordPress 5.7 Field Guide. After that, it's time to get testing on your staging environment and if all goes well: update. Good luck and let us know what your experiences are with WordPress 5.7!
Read more: Yoasters contributing to WordPress 5.7 »
Coming up next!
Event

December 09, 2023

Team Yoast is at Attending, Organizing, Sponsoring WordCamp Ahmedabad 2023! Click through to see who will be there, what we will do, and more!

See where you can find us next »

SEO webinar

12 December 2023

Learn how to start your SEO journey the right way with our free webinar. Get practical tips and answers to all your questions in the live Q&A!

All Yoast SEO webinars »