Ask Yoast:
Which eCommerce plugin do you recommend?
No matter what you're selling: you want to use the best eCommerce system possible. So you know you'll get optimal results and therefore have one less thing to worry about. But with all the different systems and plugins out there it can be hard to choose. In this edition of Ask Yoast, I'll share which eCommerce plugin I generally recommend.
Topher Knoll emailed us the following question:
I'm curious what Yoast uses as its WordPress eCommerce plugin or what it recommends. I'm interested in something with plenty of SEO capability, and that has an easily customizable theme. I want to be able to encourage conversions with a good UX.
Check out the video or read the answer below!
The most complete eCommerce plugin
"Well, let me answer that. We currently use Easy Digital Downloads and we are in the process of switching to WooCommerce. Both are fine systems.
We have outgrown Easy Digital Downloads a bit because we do so much more than digital downloads and we wanted a more complete eco-system.
I think by now, I would probably recommend most people on WordPress to use WooCommerce and nothing else, because it has the most complete eco-system, the most plugins, etc.
Good luck!"
Read more: eCommerce SEO checklist »
Ask Yoast series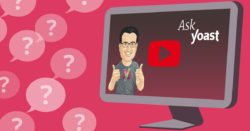 See more from the Ask Yoast series
In the Ask Yoast series, we answered SEO questions from our readers. Check out the other questions!