Ask Yoast:
Can I repost my guest-authored content?
Writing content for another site as guest author or blogger can have many benefits. It could help you get more exposure, especially if you're writing for a site that's a lot bigger than yours. Working with other sites also gives you the opportunity to build potentially worthwhile (business) relationships and broaden your network. You might even get paid for your guest articles. Another obvious advantage, of course, is gaining valuable backlinks to your site.
Now, this doesn't mean you should start sending out loads of mediocre articles to every blog that's even remotely relevant to your own. A better strategy: guest-write great content for the right website, perhaps a few guest posts, and engage with the audience: you'll surely get noticed.
But, once you've invested a lot of time in writing a great article that you're very proud of, odds are you also want to put that content on your own site. Preferably without creating duplicate content issues. What are your options, in that case?
Yossi sent us a question that shows this dilemma:
I sometimes write articles for a third party website. I'd also like to put them on my own site. But I noticed the other site set a rel="canonical" attribute pointing to their page. So, how can I put the articles I wrote on my site and benefit from them, without getting a penalty from Google?
Watch the video or read the transcript for the answer!
Reposting guest-authored content
"The problem is, Yossi, if you publish them on that other site first, and that other site is bigger than yours, then the chance of you ranking with that content is close to zero.
So, if you want to rank with content, you need to decide where to put it first, and otherwise, you have to put a canonical on that third-party website to yours. But if they're paying you to write that, or if there's another sort of deal, they'll probably not be willing to do that. So, decide where you want to rank with content, publish it there first, otherwise put a canonical from the page that you want not to rank to the page that you want to rank.
But if you can't do any of that, then I would not go through the trouble of publishing it again on your own site. Because it really doesn't make all that much sense. And you'd be better off just publishing a short snippet on your own site, saying, "Hey, I wrote this on that other site." Good luck."
Read more: What is duplicate content? »
Ask Yoast series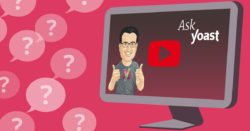 See more from the Ask Yoast series
In the Ask Yoast series, we answered SEO questions from our readers. Check out the other questions!