Your tag and category pages could be very important pages on your site. If you use these pages right, they can boost your site's SEO. They can make great landing pages that could also prevent your individual pages from competing.
You may wonder if you should also include these taxonomy pages in your XML sitemap. In this Ask Yoast, we explain whether you should, and why!
Our support team received the following question from a Yoast SEO user:
"I just installed Yoast SEO. Should I include taxonomies, like tags and categories in my XML sitemap?"
Check out the video or read the answer below!
Include taxonomies in XML sitemap
"Well, of course, you should, that's what we do by default. We do that for a reason. Your tags and your categories could be very important pages on your site.
We have a post on yoast.com about category SEO, that you should really have a look at. We think that if you do your job well, then your category pages could rank for terms that your posts might never rank for. Because every post that you write in a specific category or tag, links back to that category or that tag. So those pages become very powerful. And if you optimize them well, they can very well become pages that rank in the search results. Good luck!"
Read more: Using category and tag pages for your site's SEO »
Ask Yoast series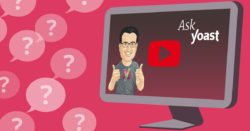 In the Ask Yoast series, we answered SEO questions from our readers. Check out the other questions!
---
---
Check out our must read articles about Content SEO
Image SEO should be in every online marketeer's and copywriter's toolbox. Here's how you should optimize your images!

SEO copywriting is both a key element and a challenge in every SEO strategy. This guide covers all the phases of a good SEO writing strategy.

The first step in every content SEO strategy should be executing keyword research. In this ultimate guide, we'll teach you how to do that.

Your site structure is vital for users and SEO. Our complete guide will lead you through all steps necessary to create a sound site structure.