Games
We love games! So why not design some ourselves? Discover the games that we "Yoastified".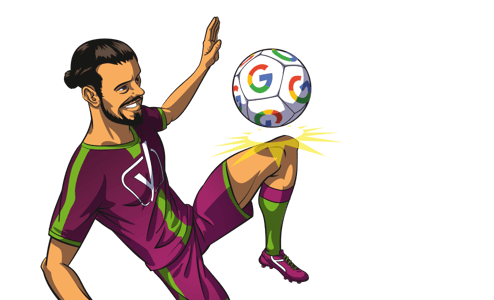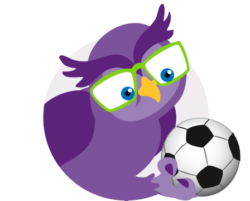 Many of you probably know we really like building LEGO at Yoast. What might be new to you is that we really love playing games together! We even organize game evenings outside working hours sometimes. Discover some of the games we've designed. Which ones do you recognize?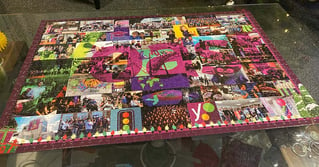 Puzzle
In 2020 we celebrated Christmas together online, but not without sending a beautiful package to all of our colleagues around the world! We designed a puzzle, a newly acquired hobby for many of us. The puzzle shows our colleagues and a collection of many beautiful moments from recent years. [2020]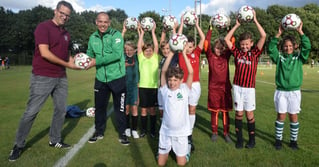 Soccer ball
At Yoast, we love to help our local community. That's why we sponsored 200 soccer balls for a local soccer club. It was amazing seeing all the happy faces. And, our colleagues got one as well to play a game at home. [2020]
Sliding game
Supporting the communities around us and involving them in what we do at Yoast is something we love! We organized an open house at our headquarters for the people in Wijchen and our friends and families. While they were enjoying presentations and taking a tour around the offices we had set up a hunt for the kids with a Yoasie sliding game as a small gift. Designed by our brand team! And let's face it, don't we all feel like a scrambled Yoasie sometimes? [2019]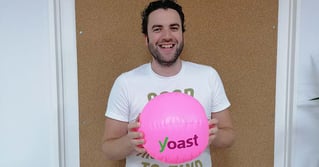 Beach ball
We can't do without this at the beach, can you? These lovely beach balls were handed out at the first YoastCon. They served another purpose: we used the different colored balls as a way to vote for your favorite new ideas for the plugin one day. One is designed with a globe, which we used for this video about supporting the community. If you managed to get your hands on one of those, then you're lucky! They were very limited. [2019]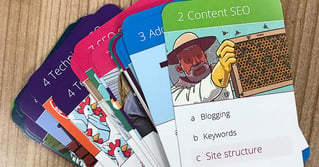 Game of quartets
At Yoast, we love playing games. Creating a game in Yoast style was therefore inevitable! How to play this game? You need to collect a quartet: a collection of multiple sets of 4 matching cards! Which game would you like to see the Yoast way? Let us know by using #YoastSouvenirs on social media. [2017]
Fidget spinner
Normally we don't really respond to trends, but this was the big hype in 2017 that we really wanted to participate in! The fidget spinners were very popular and sought after among colleagues and kids. We distributed them during our local activities. [2017]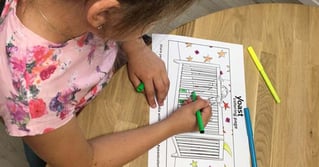 Coloring book
Cause we love to give the world some extra color! We had so many fun and beautiful images that we decided to bundle some of them in a coloring book. They have been handed out at childcare during events and as a goodie in our stand. [2017]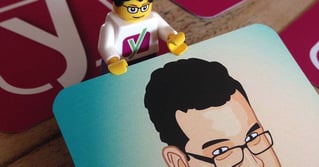 Memory
Around the first YoastCon in 2015 there was a shift in our brand design. Through time, our illustrator Erwin has made many illustrations of Joost and others. In the end, we had so many fun avatars and illustrations that these cards resulted out of that! Now we can play a game with our colleagues, literally! [2015]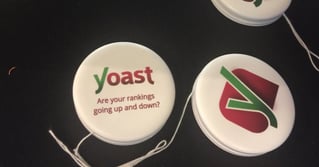 Yo-yo
Yo-yo-yoast! Are your rankings going up and down? With that idea in mind, we created these yo-yos. We brought them to several WordCamps all over the world, for example, WordCamp Orlando in 2015. [2015]
---