Clothing and caps
This is how you can recognize the Yoast crew and our fans!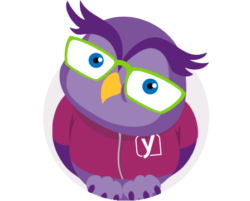 Socks, shirts and hoodies, we make sure you'll see us and our fans shining wherever we are. Even at the Four Days Marches you will be able to spot us. What's more in this clothing category? You'll discover the story of our famous Yoast socks!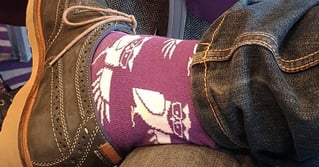 YoastCon socks
Warm feet are everything, right!? Two variations of these comfy socks were made: a pair of purple ones and a pair with owls. We handed them out during the break of YoastCon in 2019. Fans still love wearing them as you can see! Photo by Two Heads Design. [2019]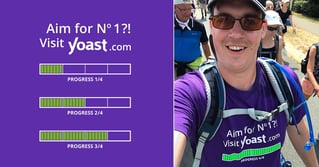 Four Days Marches T-shirts
For several years, we have been standing on the route of the Four Days Marches in Wijchen with a special stand to encourage our sporty Yoast marchers. For them, we created the Four Days Marches shirts, one for every day! [2018]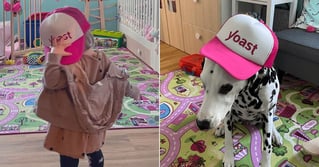 Yoast caps
These pink Yoast caps are popular, that's a fact! We wear them ourselves during events, such as the Four Days Marches, but as you can see our fans love them too. Sharing is caring, right? Photo by Hendrik Luehrsen [2018]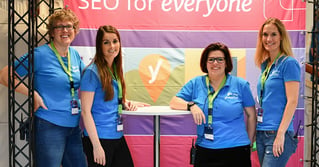 YoastCon shirts
During the time of YoastCon 2017 in Nijmegen, our mascotte Yoasie was dressed in blue. For that reason we decided to step away from the purple shirts and wear blue ones instead! [2017]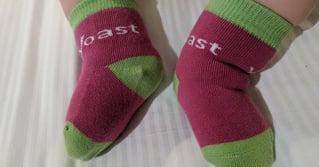 Yoast baby socks
Oh baby! We always brought socks with us when attending WordCamps. Not only for adults, but also these cute socks for little Yoast fans! Nice to know: these socks are included in the baby packages, a gift for every newborn baby at Yoast! Photo by Morten Rand-Hendriksen [2016]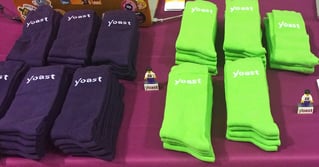 Yoast socks
We love these Yoast socks! Fun fact: for the first YoastCon we ordered green and purple socks. When the box finally arrived, we opened it and saw… pink socks! There were quite some people that chose the pink ones. Eventually, the pink socks were sent back and we got purple socks. So, the lucky people who got pink Yoast socks actually have a collector's item! [2015]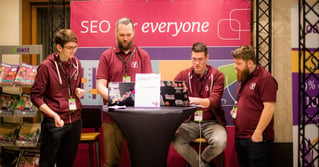 Shirts & hoodies
For the first YoastCon we all got the same shirts. It was great to be recognizable as the Yoast Crew. This color and clothing line has therefore remained and expanded with the hoodies and polos. In general, the shirts are being created with the same print in large quantities, but some shirts are designed for special occasions. [2015]
---