Introducing MyYoast: our brand new customer portal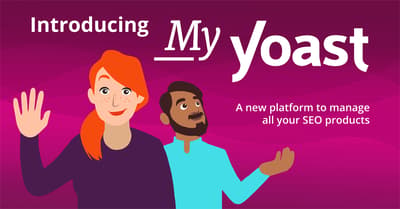 Today we're launching MyYoast, a new customer environment where you can view and manage the purchases you've done at yoast.com. These last few months, our development team worked very hard to create this easy-to-use user portal. Read here how MyYoast will make your life as a Yoast customer easier.
What is MyYoast?
MyYoast is an easy-to-use interface to view and manage your Yoast purchases. At a glance, you can see your order history; which products you've bought; what the status of that product is and you can manage your plugin subscriptions. In the future, we'll gradually expand the functionalities of MyYoast so that it will be the go-to place where you can access all your Yoast products, including SEO courses.
Since we now have a fully functioning WooCommerce store with multi-currency support, at some time, we will be accepting more of the world's most important currencies. For now, we're only accepting Euros and Dollars.
Watch this video and see how it works! If you have any more questions about MyYoast, please see our knowledge base.
Plugin overview
Forget about copy-pasting your plugin license key or going through your email archive to retrieve it. From now on, you can activate your Yoast plugins directly on my.yoast.com, so you won't need a license key anymore. If you log in to MyYoast you can:
access your downloads;
manage your product subscriptions;
find your order history.
On top of that, you can indicate which plugins run on which of your websites. Just enter the URL of your website and set a plugin to active if you have it running on that site. This way, you'll enable updates for the Yoast plugins on your site, and, in case you own multiple site subscriptions of one plugin, you'll always know how many subscriptions you have left for other sites.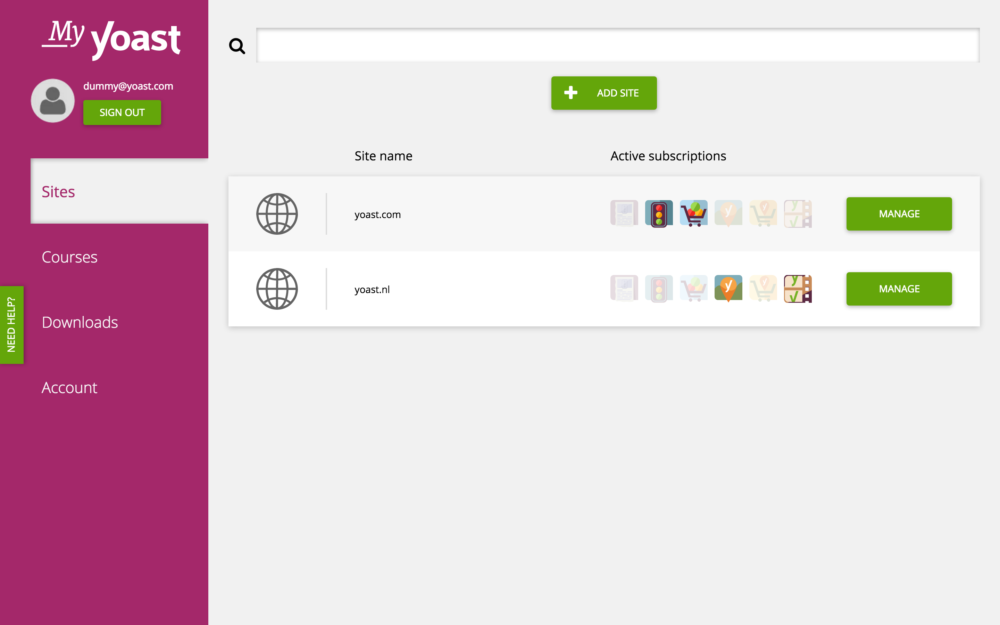 Sounds great! So how do I get in?
New customers
From now on, if you purchase on yoast.com, you'll receive an account on MyYoast where you can access your downloads and manage your subscriptions. You'll need this account to receive updates for your Yoast plugins.
Existing customers
In case you're a Yoast customer, you'll receive an email to access your MyYoast account in the upcoming week. When you first log into MyYoast, a screencast will guide you through this new environment, to make sure you'll understand how everything works.
Can't wait until next week to get access? Go to my.yoast.com and get access to your account now. You can do so by filling out the email address you've used when you've purchased a product and by clicking 'reset my password'. After verification of your email address and resetting your password, you'll be able to access your account.
Coming up next!
Event

October 04, 2023

Team Yoast is at Attending, Organizing Yoast Contributor day 2023 - October edition! Click through to see who will be there, what we will do, and more!

See where you can find us next »

SEO webinar

12 October 2023

Stay ahead of the curve in the fast-evolving world of e-commerce & explore key trends & emerging opportunities. Register for "E-commerce Trends 2023" now!️

All Yoast SEO webinars »