5 questions Roy Huiskes - Chapter42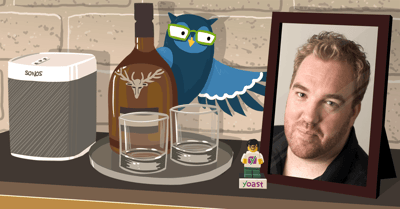 "SEO is more about being in ALL the right places at the right time." That's how SEO and internet marketer Roy Huiskes describes the importance of a complete online presence. He has worked in the business since 2003 and consulted for several big brands. With loads of experience in CRO, analytics and all aspects of online marketing, he's one of the best SEO experts in Europe. So it goes without saying that we're delighted to announce he'll be joining our panel discussion at YoastCon. To top it off, he'll also give a hands-on workshop on keyword research!

You're an SEO and online marketer. Do you feel these are still two separate areas, as SEO is becoming more and more about optimizing your complete online presence (including social media etc)?
I never felt these were separate domains. From the first days, I've always seen SEO as understanding the consumer's needs and creating value around that. Google only caught on to this later on, so tactics might have changed a bit, but the strategy of understanding the consumer's needs is still the same.
So, to answer the question: Yes, SEO is more about being in ALL the right places at the right time to get better results. There are quite a few cases that prove that the searches themselves and the connection between 'brand' and 'top keyword' are very relevant to increase your organic traffic. This can only be achieved by being a bigger brand.
You've once predicted the rise of local SEO. Nowadays, optimizing for local is very important. Any tips for local entrepreneurs on what to focus on?
Yes. It's a very natural factor for Google to consider, especially with an 80%+ market share in the mobile market. People are looking for this information. In the English language, the 'near me' query is critical. While this could also work in the Netherlands, we don't see similar behavior that often. Opening hours is quite remarkable though.
So, make sure you do your keyword research very well and not 'globally', but understand how the consumer searches in each country or culture. This is getting even more important if you consider the use of devices like Google Home, Cortana, Amazon Echo or Siri. This will probably result in a huge shift in the type of search terms people are using. Since these kinds of queries are on 20% already, this transition is something to focus on.
As a consultant working for major brands, you've seen lots of websites in your career. What's the biggest mistake you think website owners make when it comes to SEO?
I'm not sure. It could be two things:
Not training the development teams well and in a more technical, advanced way
The lack of keyword/intention research and the unwillingness to make UX changes on this.
I think I'll go with the UX though. I've seen a lot of quality, easy to understand SEO stuff be put away, in favor of all kinds of fancy-pants UX that nobody needed, often because of some CRO goal setting that wasn't backed up by data.
SEO of the future: what should website owners focus on if they want to rank now AND in the future? Are there any important changes coming up that we should know about?
Well, I don't believe in the mantra: 'create for the user, and they will come', although I do think you should put user behavior first. The users won't come automatically after a reasonable amount of time. We need to do more work. Market your website properly, making sure people know what they can find, do and buy on your site, and what your brand stands for.
But it all starts with being clever about your target audience and their needs. So proper user research that focuses on intentions and keywords will teach you a lot about your consumers. Then start experimenting, learn more about your customers in A/B tests and help them in your journey to a better product that attracts even more happy users.
Why shouldn't people miss your talk at YoastCon?
Well, how nice of you to ask, good question. The answer to the previous question is what I'm going to provide. Or at least how I'm doing that for my clients. I'll teach you how to do proper keyword research, focus on intentions and gather all the useful data to make smart decisions.
Coming up next!
Event

December 09, 2023

Team Yoast is at Attending, Organizing, Sponsoring WordCamp Ahmedabad 2023! Click through to see who will be there, what we will do, and more!

See where you can find us next »

SEO webinar

12 December 2023

Learn how to start your SEO journey the right way with our free webinar. Get practical tips and answers to all your questions in the live Q&A!

All Yoast SEO webinars »