How to install Yoast Local SEO for WordPress
Thank you for purchasing Yoast Local SEO. Please make sure you've installed Yoast SEO or Yoast SEO Premium already, as it is required for the add-on plugin to work.
Want to learn all about local SEO? In our Local SEO training, you'll learn how to optimize the website of your local business for search engines. So you'll start ranking in your area! Check out our Local SEO training.
Download the add-on
You can download the add-on in the download section of My Yoast. When you click the download button of your add-on in My Yoast, you will either be prompted to select a folder to save the zipped file or your browser will save the zip file automatically to your download folder. You will need to know where the file was saved during the installation.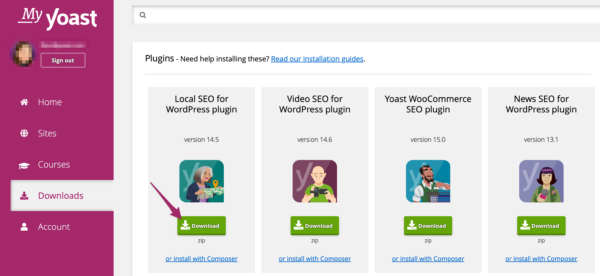 You can always visit the download section of My Yoast, should you wish to download the plugin again.
My download is a folder, not a zip file
If you're downloading one of our plugins and instead of a .zip file you get a folder, your computer is unzipping the archive immediately. The steps to change this behavior depend on the browser you use to download the file. After you change the behavior using the steps here, return to your email and download the plugin again.
How to install the add-on
Installing the add-on is a little different than the free plugins because it's a downloadable plugin and not one found in the free WordPress plugin repository. To install the add-on, go to Plugins → Add New → Upload Plugin to browse for the zipped file and click Install Now.
Log in to your WordPress website.

When you're logged in, you will be in your 'Dashboard'.

Click on 'Plugins'.

On the left-hand side, you will see a menu. In that menu, click on 'Plugins'.

Click on 'Add New'.

The 'Plugins' settings will expand providing you with additional options. Click on 'Add New'.*
* If you do not see the 'Add New' option, your site is part of a network. Please install the plugin through the network admin under 'My Sites' > 'Network Admin'


Click the 'Upload Plugin' button near the top of the screen. 

Click the 'Choose File' button.

Browse to the folder where you saved the plugin download and select the plugin zip file.

Click 'Install Now'.

This make take a while so be patient.

Click 'Activate Plugin'.

If you have a network install, you will see the option to 'Network Activate'. To activate the plugin for all sites within the network, click 'Network Activate'. Otherwise, go to the individual site's plugin list and click 'Activate Plugin'.

Please follow the steps to connect your subscription to the installed and activated add-on on your site.
Install via Composer
Want to install our premium plugins via Composer? Read how to install Yoast plugins using Composer.
Related articles