Three reasons for you to test Yoast SEO 3.1-RC
Let's face it. You don't like testing new software. You want software to be done and production ready. You don't have time to try out new software. Especially when you're in the middle of a busy period. I know.
Now spare a few minutes of your precious time and read these three reasons why you should test our latest release candidate of Yoast SEO.
1. Wanted
Yoast SEO 3.1 is the release a lot of users have been waiting for. We made quite a few significant changes in 3.0. Some of them have been praised, others despised. Since the release of Yoast SEO 3.0, we've gathered feedback. A lot of feedback. We checked our premium support, read the free support forums, and personally talked to our customers, for example at WordCamp US.
From all the feedback, we distilled the best remarks and divided those into three categories; bugfixes, enhancements, and features.
For each category, we've selected the most wanted changes and prioritized them. This lead to the changes you can find in the Yoast SEO 3.1-RC change log.
Let's highlight three of the most wanted changes:
a. Analyzer works when switching from 'visual' to 'text'
[bugfix]
We've received a substantial number of bug reports about changing the view from 'visual' to 'text' and back in TinyMCE. In particular situations, doing so caused the Yoast SEO Analysis to break. This bug, annoying a lot of customers, has been resolved in Yoast SEO 3.1-RC.
b. New interface for the snippet preview and editor
[enhancement]
It must have been the most talked-about change in Yoast SEO since its early days, the switch from just a couple of input fields to the real-time inline editor for your snippet. And we learned an important lesson: slowly seeing a change evolve over a couple of months obfuscates your view when it comes to user-friendliness. So, we listened to what you wanted and worked from there.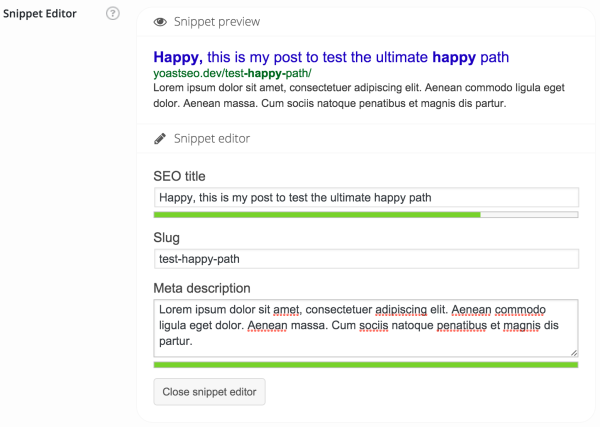 Our primary focus for the changes in the snippet preview has been usability. In Yoast SEO 3.1-RC you now have the old snippet preview back, but on steroids. This makes it easier than ever to change your SEO title, slug and meta description!
c. You can now mark a primary category
[feature]
Categories are a useful way to group your posts, pages, locations, and other custom post types. But have you ever added a post or page to multiple categories? Were you able to predict which category would be used in, for example, the breadcrumbs?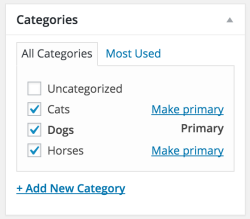 Yoast SEO 3.1-RC makes your life easier! You can now select a category to be the primary one, forcing WordPress to use that one over the other categories.
As said, the list is way longer than just those three very much wanted changes. You can find all of them in the change log. By testing Yoast SEO 3.1-RC, you can be the first to use these changes!
2. Trust
We trust you. We trust your judgment. And we certainly trust your ability to put Yoast SEO 3.1-RC to the test. But this chapter isn't about our trust in you. It's about you trusting us.
In the days and weeks after the Yoast SEO 3.0 release, we did six patches in a row. And some of them weren't pretty. We know that. We know that it hurt your trust in Yoast SEO updates.
We feel that the only way to regain your trust is to show that we've learned from the past. That we're trustworthy again.
By testing Yoast SEO 3.1-RC on as many different websites and configurations possible we can show that it's safe to update Yoast SEO on your website. We've tried all the configurations we could ourselves, but that's still far from the maximum different configs. This is where we need your help.
You're a web professional. Your website is a valuable tool for your business, so that probably means you've got your own testing or staging environment that mimics your live website. By installing Yoast SEO 3.1-RC on it, you can test if it's safe to upgrade your live site. And if you do run into problems, report them via email or on GitHub, so we can solve them before releasing Yoast SEO 3.1.
We trust in your ability to test Yoast SEO 3.1-RC, will you help others regain their trust in us?
3. Flawless
We're not going to pretend Yoast SEO 3.1-RC is flawless. But even though the plugin itself has parts that can be improved further, we want upgrading to Yoast SEO 3.1 to be flawless. No fatal errors, no issues, just click-and-go.
To make the user experience of updating the plugin flawless, we'll need your feedback. We've been working with the new user interface for a couple of weeks, so we cannot see what's still flawed. We need your help.
You can help us to make upgrading your live website flawless by testing the RC on your staging site and reporting issues you encounter.
Let's test Yoast SEO 3.1-RC!
Three compelling reasons to test the 3.1 release candidate, right?
Just follow these steps to start testing today;
Remove the current version of Yoast SEO from your staging environment (deactivate and delete).
Go to your admin > Plugins > Add new > Upload Plugin, select the downloaded Yoast SEO 3.1-RC file and click Install Now.
Activate the plugin.
Read the change log and start testing!
If you run into a bug, please report it on GitHub by creating a full bug report. If you do not feel comfortable creating the issue yourself, please write the bug report in an email to beta@yoast.com.
If you do not run into any problems, we'd like to know that too! Please send an email to beta@yoast.com or tweet to @YoastDev.
Thanks a million!
Coming up next!
Event

December 09, 2023

Team Yoast is at Attending, Organizing, Sponsoring WordCamp Ahmedabad 2023! Click through to see who will be there, what we will do, and more!

See where you can find us next »

SEO webinar

12 December 2023

Learn how to start your SEO journey the right way with our free webinar. Get practical tips and answers to all your questions in the live Q&A!

All Yoast SEO webinars »