There are many occassions when you may want to put a PDF on your site. For example, when you've made an online magazine, when an article you wrote was featured in a book or magazine, or when you've written detailed instructions for a DIY project. So far, so good.
But things can get a bit more complicated when you also have the content from this PDF somewhere else on your site, or on another website. To avoid duplicate content, you need to set a canonical URL. But how do you do that for a PDF document? What is the best way to do that? And is a PDF really the best way to put your content on the internet? Let's discuss in today's Ask Yoast!
Karen Schousboe emailed us her question:
I plan to publish a PDF magazine under medieval.news. Some of the articles in each issue will also be freely available on a sister website. How should I handle that? Do I link canonical from the articles to the PDF magazine or from the magazine to the website?"
Watch the video or read the transcript further down the page for my answer!
Canonicalization and PDFs
"Well, you can have a canonical HTTP header and what I would suggest doing is canonicalizing from the PDF magazine to the sister website, because HTML pages just rank a lot better than PDFs, usually.
In fact, I would suggest publishing everything in HTML and not necessarily in PDF because PDF is just not very easy to land on from search. You can't do any tracking, you can't do a whole lot of things that you can do with HTML. So I would seriously consider doing all of it in HTML pages and then canonicalizing between them. Good luck."

Ask Yoast
In the series Ask Yoast, we answer SEO questions from our readers. Have an SEO-related question? Maybe we can help you out! Send an email to ask@yoast.com.
Note: please check our blog and knowledge base first, the answer to your question may already be out there! For urgent questions, for example about our plugin not working properly, we'd like to refer you to our support page.
Read more: rel=canonical: the ultimate guide »
Ask Yoast series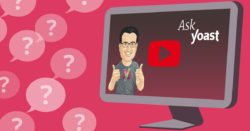 In the Ask Yoast series, we answer SEO questions from our readers. Ask a question too!