Picking a theme for your WordPress website can be hard. You want something that looks nice, meets your needs and won't slow down your website. If you don't invest some time into picking a theme, you could end up with a theme that only allows you to use <h2> headings, for example. Or you might be forced to think of a workaround to generate category pages the way you want.
If your site has been around for a while and is doing well, it can feel like a big step to switch to another theme. Still, there are many good reasons to change your theme: whether you picked something that turned out not to fit your needs after all, or just want to change the look of your website. So, let's take a moment to discuss the SEO-implications of changing your WordPress theme and how to go about it.
Consultoria Passaporto emailed us her question on the subject:
I want to change my WordPress theme without altering my content. Could changing my theme harm my rankings?
Check out the video or read the answer below!

Changing your WordPress theme and SEO
"Yes, because changing your theme changes all the code on your site. At the same time, if the theme that you're switching to is well coded, there is nothing to worry about.
The problem is that defining 'well coded' is pretty hard. What I would do is switch the theme, do a fetch & render in Google Search Console, see if everything turns out right and if it says everything's okay, then you're good to go. Good luck."
Ask Yoast series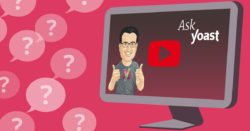 See more from the Ask Yoast series
In the Ask Yoast series, we answered SEO questions from our readers. Check out the other questions!