Superheroes pride party
February 16, 2023, 20:00 - 23:00 - (UTC +07:00)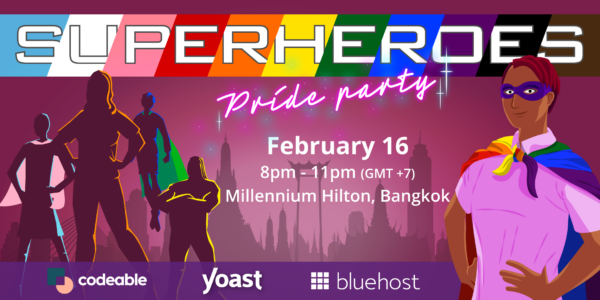 Let's celebrate diversity & inclusion within the WordPress community. Yoast, Codeable and Bluehost invite you to a Superhero themed party.
Of course, this party won't be a party without YOU! 🫶 So join us, and bring your festive vibes! If you enjoy dressing up, we'd love to meet you in your most creative (while family-friendly) superhero costume, all charged with the superpowers your favorite character has!
We'll make sure to arrange drinks, snacks, and energetic music! 🎶 There will be plenty of opportunities to have fun on the dance floor and to hang out with old and brand-new friends. 💜
To keep it fun for everyone:
* Code of Conduct: Only sign up if you're ready to comply with the Yoast code of conduct. That way, everyone can feel comfortable at this party. If, for any reason, you feel disrespected during the party, please reach out to one of the organizers so we can resolve it!
* Face masks. During the party, we keep the Thai national regulations for wearing masks. That means wearing face masks is not mandatory.
We cannot wait to see you!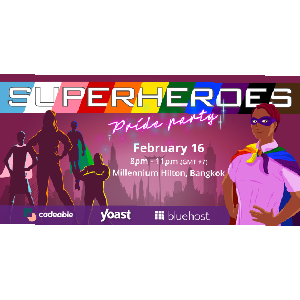 Bangkok, Thailand
Networking Event