Yoast SEO 18.8: XML sitemap improvements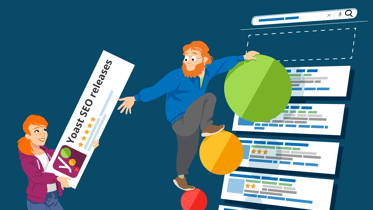 Earlier today, Google announced some changes to how they read and support XML sitemaps. And just a few hours later, we've already released an update to our plugins. Our users can stay right at the cutting edge simply by upgrading to the latest version.
Stay on top of best practice
The SEO landscape is always changing and evolving. Google, and other search engines, frequently update their guidelines, algorithms, and expectations. We're proud to say that we help our users to stay on top of those changes. Our team constantly monitors documentation, news sources and social media, and we react quickly when there are important changes.
Not all of Google's changes are big, though. Today's update was, in fact, very small. But success in SEO often comes from many small tweaks, changes and improvements. Every small advantage counts when you're competing against other websites.
So, what changed?
Changes to XML sitemap standards
Today's changes focused on XML sitemaps – a big feature of our plugins. Google stopped supporting some forms of image and video metadata, which we (used to) include in our sitemaps. For example, they no longer read captions, titles, and licensing information about images. We've safely removed these deprecated properties.
Streamlining sitemaps also has some positive side effects – those files become smaller, faster, and easier to generate. At scale, that's great for energy consumption and great for the environment. At Yoast, we're all for creating a sustainable world (wide web) for everyone.
Isn't this information valuable?
It may come as a surprise that Google is declaring that they don't want to know important information about your images and videos. We know that in the world of SEO, metadata, captions, and other information can help them to better understand, process, and rank your content.
Thankfully, you don't need to worry. XML Sitemaps were first introduced in 2005, and the web has changed a lot since then. Google can extract key information directly from images and videos – and for everything else, they can use structured data from your content. That's much more efficient than bundling extra information into sitemaps.
What changed?
In today's update we remove all <image:title> and <image:caption> properties from <image:image> structures. From now on the <image:loc> property will be the only property left in image metadata. This applies to all of our WordPress plugins.
Our technical documentation about XML sitemaps has been updated to reflect all the changes.
Yoast Video SEO
We'll also update our Yoast Video SEO plugin to remove the following properties from video metadata:
The allow_embed attribute (and value) on the player_loc property.
The category property.
Stay up to date
Today's update is one of the many small tweaks, changes and improvements that we're constantly making to our plugins. Getting the latest version means that your site will always be as fast, efficient, and optimized as possible; so it's important to make sure you're up to date. It's time to update!
>> Yoast SEO 18.9 is available now, with a new first-time configuration experience!
Go Premium and get access to all our features!
Premium comes with lots of features and free access to our SEO courses!
Coming up next!
Event

December 09, 2023

Team Yoast is at Attending, Organizing, Sponsoring WordCamp Ahmedabad 2023! Click through to see who will be there, what we will do, and more!

See where you can find us next »

SEO webinar

12 December 2023

Learn how to start your SEO journey the right way with our free webinar. Get practical tips and answers to all your questions in the live Q&A!

All Yoast SEO webinars »