Yoast SEO 18.6: Continuing with fixes and enhancements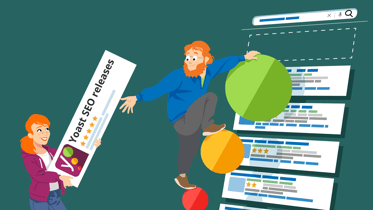 Working in the software industry isn't easy. A lot of the time, fixing bugs in software is overlooked in favor of new features and code. But, bug fixing is important. Bugs become a huge problem if they are not promptly fixed. Additionally, fixing bugs ensures that future bugs and glitches in the program are avoided. It also helps the software be more secure and reliable, which is why we do this on a regular basis at Yoast. In Yoast SEO 18.6, we did another round of bug fixes and improvements.
Improvements in Yoast SEO 18.6
Yoast SEO 18.6 is a small update, but it fixes a number of bugs, including several bugs related to the Wincher integration. With the Wincher integration, you can track the rankings of your articles in the search results. If you haven't checked that feature out, please do so!
Concerning the Wincher integration, the bugs we fixed were about keyphrases that would show up multiple times in Wincher table. The second was a bug where the Wincher connection flow would fail on certain installations. And the third one was a bug where the Wincher integration could throw a fatal error on PHP 8.0+. Last but not least, we added a Wincher integration toggle to the Network admin/Multisite integrations tab.
For Yoast SEO Premium, we're improving compatibility with PHP 8.1.
Structured data improvements in WooCommerce SEO 14.7
Thanks to structured data, we can help search engines better understand your pages and their contents. At Yoast, we regularly enhance our structured data implementation and, today, we do so for WooCommerce SEO. In WooCommerce SEO 14.7, we've improved the Schema on checkout pages by removing the default ReadAction we used to add there. In addition, we've improved the Schema on product pages by replacing the default ReadAction with a BuyAction.
Update now to Yoast SEO 18.6
In summary, Yoast SEO 18.6 includes some performance improvements, bug fixes, and other enhancements and you can download it now for free. So get to it! And, if you haven't yet, check out the Wincher feature to find out what rank tracking can do for you.
PS: GPT-3 helped me write this article.
>> Yoast SEO 18.7 is available now with more bug fixes and improvements to our structured data implementation!
Coming up next!
Event

December 09, 2023

Team Yoast is at Attending, Organizing, Sponsoring WordCamp Ahmedabad 2023! Click through to see who will be there, what we will do, and more!

See where you can find us next »

SEO webinar

12 December 2023

Learn how to start your SEO journey the right way with our free webinar. Get practical tips and answers to all your questions in the live Q&A!

All Yoast SEO webinars »