Yoast SEO 5.8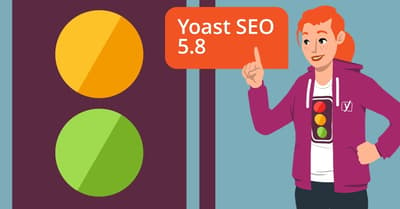 For us, these last few weeks were mostly about our SEO conference YoastCon, but work on Yoast SEO went on as well. Today, we're proud to present Yoast SEO 5.8. In this release, you'll find a truckload of fixes and enhancements. I'll share some of them in this release post and I'll shine a light on all those smart community members who helped enhance this release.
Thanks to our community
If you read the full changelog, one thing becomes instantly clear: this is a community effort. And that is something we're grateful for. In Yoast SEO 5.8, we've got fixes and enhancements from no less than ten GitHub developers. Let's go over some of these additions, shall we?
Shane Grey, Saša Todorović and Damian Luszczymak all made suggestions to fix the layout of the Yoast SEO metabox. These fixes make sure that everything in the readability section now performs better on all screens.
Both Chris Wilcoxson and Eivin Landa suggested introducing the wpseo_breadcrumb_single_link_info filter for modifying breadcrumb data. Soulseekah introduced the wpseo_redirect_orphan_attachment action to allow unattached attachment pages to be redirected in tune with the relevant setting.
Tim Nolte suggested removing the max-width on alerts which leads to a better UI. Thanks to William Patton the default Twitter Card option in the social sharing settings of Yoast SEO is now set to 'Summary with large image.'
SEO roles and capabilities
In Yoast SEO 5.5, we introduced SEO roles. These make it possible to give certain editors access to particular features of Yoast SEO, like the redirect manager. This gives site managers a more fine-grained way of access management. In Yoast SEO 5.8, we've enhanced this features, thanks in large part to Jory Hogeveen.
We now integrate better with most role/capability manager plugins using the `members_get_capabilities` filter. We've also added a Yoast group to the Members and User Role Editor plugins to find the Yoast SEO capabilities easily. This makes picking and setting the roles even easier.
Cleaning up
This release not only fixes some bugs, but it also contains an extensive clean up of the code base. We've removed the old Knowledge Base Search code and now solely rely on the new search feature that was added to the revamped Help Center. Also, we've improved the codebase to make it comply with the latest WordPress Coding Standards.
Checking Gutenberg content
While a full integration into Gutenberg is still months away, we did add the possibility to check the content you made in Gutenberg. If you use the Gutenberg plugin to create your content, you can now switch to the regular editor and fine-tune your content with Yoast SEO's readability and SEO analyses. As you might know, we're actively working on integrating Yoast SEO in Gutenberg and improving the new editor where we can.
Update!
Yoast SEO 5.8 is a great release chock-full of fixes and enhancements. In this release, we're both cleaning up after us and looking forward to the future. We'd like to thank our community members that contributed to this and many other releases. We love your input. Now, update!
Read more: Why every website needs Yoast SEO »
Coming up next!
Event

December 09, 2023

Team Yoast is at Attending, Organizing, Sponsoring WordCamp Ahmedabad 2023! Click through to see who will be there, what we will do, and more!

See where you can find us next »

SEO webinar

12 December 2023

Learn how to start your SEO journey the right way with our free webinar. Get practical tips and answers to all your questions in the live Q&A!

All Yoast SEO webinars »