Yoast SEO 5.3: The community edition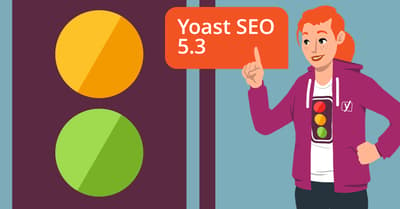 At Yoast, we greatly value our brilliant community. Hundreds of people voluntarily help us to improve our products by giving valuable feedback and insights into their usage of Yoast SEO. Contributors fix issues and suggest enhancements to make our work increasingly better. Today, with the release of Yoast SEO 5.3, we add another chapter to our open source driven development.
Getting better, together
Browsing through our GitHub repository is a joy. Many helpful discussions are going on about the different Yoast plugins and Yoast SEO in particular. We greatly appreciate this as it gives us a feel of what you as a user want and what kind of problems you run into. This way, we can make calculated decisions on where the plugin could go next.
In almost every release there is at least one enhancement or fix by one of our esteemed contributors. In Yoast SEO 5.3 it's Saša Todorović's time to shine, one of our most prolific contributors. But there are many, many more and we'd like to thank you all. If you'd like to contribute, please don't hesitate and visit our repository on github.com/yoast.
Full support for Advanced Custom Fields (ACF)
We're now announcing a different kind of community open source effort: full support for the very popular Advanced Custom Fields (ACF) WordPress plugin by Elliot Condon. Together with Viktor Fröberg, Marcus Forsberg, Thomas Kräftner and the awesome guys and girls at Angry Creative, we've merged two different ACF glue plugins and redeveloped these into one official one: ACF Content Analysis for Yoast SEO. This plugin will be updated on a regular basis and will offer continued support for ACF. From now on, Yoast SEO will be able to check your content in custom fields built by ACF.
If you want to know more about this project and what it all means for Yoast SEO and Advanced Custom Fields users, you can read the blog post about this new release.
Improvements: Schema.org, readability filter, XML image sitemap
Besides fixing support for ACF, our development team made great strides with Yoast SEO 5.3. Thanks to the awesome Saša Todorović, we've added an XML schema for image sitemaps so these can be validated in sitemap checks. We've also made it possible for custom theme providers to hook after_theme_load so they can provide their own XML sitemaps during setup.
One of the coolest additions in this release is the broader use of Schema.org metadata. Schema.org structured data is getting more important by the day, so you have to work on it. In Yoast SEO 5.3, the plugin not only adds Schema.org meta data about your site, like your name, logo, etc., to your homepage but every page on your site. If you'd like to learn more about structured data, we can recommend our Structured data course.
It's always been possible to filter your posts by SEO score, so you could easily find these to improve them. Now, you can also filter by readability score. One more way to weed out those low-quality posts!
Yoast SEO Premium: Redirect export to CSV
We've added one of the most requested features to Yoast SEO Premium: export your redirects to CSV. You can now get a full overview of the redirects on your site in one handy file. Check the list and use it to make adjustments if needed.
Onwards and upwards
Yoast SEO 5.3 has been a joy to build, thanks to the continued support of our lovely community. Thanks for contributing. If you'd like to contribute as well, you know where to find us. Have fun updating!
Read more: Why every website needs Yoast SEO »
Coming up next!
Event

June 08 - 10, 2023

Team Yoast is Attending, Organizing, Speaking, Sponsoring WordCamp Europe. Click through to see who we'll be there, what we'll do there and more!

See where you can find us next »

SEO webinar

30 May 2023

Our head of SEO, Jono Alderson, will keep you up-to-date about everything that happens in the world of SEO and WordPress.

All Yoast SEO webinars »