Today we've pushed out Yoast SEO 3.2. This release's most notable feature is the addition of a help center to every settings page. You'll remember we released tutorial videos a while back. These videos are now available right where you'd need them: on the tab that each video discusses. Other changes include accessibility improvements and tons of bug fixes. Last but not least, we have Social Previews in Yoast SEO Premium.
Accessibility changes
As you'll have noticed we hired Andrea Fercia a while back. Andrea has been working hard on improving the accessibility of Yoast SEO. Some of the changes he's made are visible and useful to everyone. Our new toggles were improved, as well as our inline help, which now looks like this:

Help center
We released our tutorial videos a few weeks ago. After that, we thought: how can we use these videos most effectively? The answer was rather simple: put the videos on the tab they talk about. The "most WordPress way" would have been to put them in the help tab. Unfortunately, nobody, ever, seems to be able to find that tab, so we've made it far more visible:

When you click it, it expands and contains the video for that tab: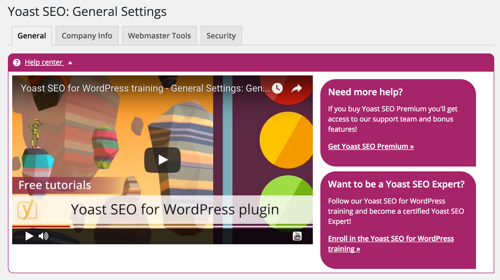 Premium: Social previews
In Yoast SEO Premium, we added a cool new social previews feature. Much like the snippet preview it shows you what your post will look like when shared on Facebook and Twitter. If you don't have premium yet, now might be a good time to get it!