Yoast SEO 3.0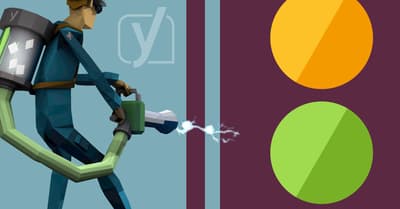 We've just released Yoast SEO 3.0. This release includes real time content analysis, the "upgrade" of our snippet preview to a snippet editor, an upgrade to how we handle categories and tags and an integration with Ryte. And that's just the headline features.
Since the "creation" of Yoast SEO as a plugin, we've not done a release as big as this. It's been quite a while in the making, my blog post about real time content analysis dates back from July. That's because we had to rewrite a lot of the features of Yoast SEO in JavaScript. This makes it possible to run our analysis in your browser, instead of on the server, making it much much faster.
Real time content analysis
With Yoast SEO 3.0, our focus keyword capabilities and content analysis became real time. We also added, in Yoast SEO Premium, the option to have multiple focus keywords. This quick video is probably a better example of what I mean than what I can explain in words:
We think that's nice! It's so fast, sometimes you don't even see it update.
Multiple Focus Keywords
With Yoast SEO Premium you can, as of this release, assign multiple focus keywords to a post (or page). This means that you're going to be able to optimize a post for two completely different terms, or for two synonyms. We've got more functionality planned for upcoming release of Yoast SEO Premium around this.
We think multiple focus keywords and our real time content analysis are cool, we hope you do too. If this makes you want to upgrade to Yoast SEO Premium, you're in luck: this post marks the beginning of a sale up until the end of the year in which Yoast SEO Premium will only cost $69 per year for support, updates & upgrades!
Snippet preview becomes snippet editor
Our snippet preview was the first ever to be built-in to a WordPress plugin or theme. Now, this much copied feature is moving into a next step: a snippet editor. As you can see in the interface above, you can edit the snippet straight where you see it, making the interface much smoother and easier to work with.
This feature replaces the fields for title and meta description. You can now also edit the post slug straight from this interface. Did you notice in the video that we've changed the UI for our meta box too?
Ryte integration
We've long been wanting to work with our friends at Ryte, they run one of the finest SEO tools in the business and have a free account that many of our users could benefit from. In collaboration with them we've built a service integration that checks, on a weekly basis, whether your site can still be indexed by search engines. If, for some reason, your site suddenly changes in such a way that it's no longer indexable by search engines, we'll notify you, both on your dashboard and in an email.
This is just our first bit of work with our friends from Ryte and we hope to be able to deliver more cool features together in the future.
Categories and tags become first-class citizens
We've always told you to optimize your category and tag pages, but we weren't really good at helping you do it. Now, we've brought the entire Yoast metabox, including the snippet editor and the content analysis, to the category edit page: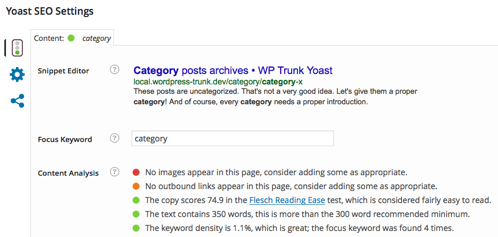 In addition, your category / tag description field no longer is a plain text field but now immediately gets a full rich text editing environment so you can way more easily make those descriptions attractive.
There are more features, but I'll stop here. We'd love to hear what you think in the comments!
Coming up next!
Event

September 27 - 28, 2023

Team Yoast is at Sponsoring WordPress Accessibility Day 2023! Click through to see who will be there, what we will do, and more!

See where you can find us next »

SEO webinar

03 October 2023

Learn how to start your SEO journey the right way with our free webinar. Get practical tips and answers to all your questions in the live Q&A!

All Yoast SEO webinars »