Yoast SEO 17.8: fixes and enhancements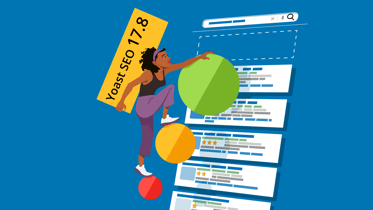 Today, we present you Yoast SEO 17.8! While not the most exciting update in the history of Yoast SEO, we do want to get these fixes and enhancements out the door. With the holidays around the corner, this release should make sure that your favorite SEO plugin will function without issue into the new year.
What's new in Yoast SEO 17.8
In Yoast SEO 17.7, we launched a new way of getting those important first steps right in the plugin. In Yoast SEO 17.8, we make some small UI and content improvements that make it even more clear what you need to do in those steps. We now also prevent that users of a lower user role can change the site description.
In addition, we've made several PNG files in the plugin smaller, thereby reducing loading times. We've also fixed bugs in the visuals of our Elementor integration, plus we've fixed several translations in the Google and Social previews. On that last one, we've also updated the styling of the social previews in Yoast SEO Premium so that they align with the current visuals of Twitter and Facebook.
Last but not least, this release lays the groundwork for moving our translations to translate.wordpress.org. Once that move is fully done, we can make the plugin a lot smaller because we don't have to ship the JavaScript files of the language anymore — users automatically download these from translate.wordpress.org.
Yoast Duplicate Post updated as well
Have you tried our free Duplicate Post plugin? It's one of those tools that will prove invaluable for your work! It allows you to quickly duplicate an existing post to use it wherever you want. In addition, it comes with a genius Rewrite and Republish feature that lets you update a post in the backend without disturbing the one that users see on the frontend. It's a one-click duplication, update and republish process!
Duplicate Posts offers functionality that makes you ask yourself: "Why doesn't WordPress offer this out of the box?" Luckily, you can try it yourself — for free! In today's 4.3 release of Duplicate Post, we've fixed a bug that caused a performance issue in WordPress. Everything should be running smoothly again.
Update now to Yoast SEO 17.8
Yoast SEO 17.8 is out now and ready for you to download. In this release, we fix a number of bugs and added a few enhancements for you to enjoy. We've also updated Yoast Duplicate Post — don't forget to try that one, you'll love it!
Coming up next!
Event

October 04, 2023

Team Yoast is at Attending, Organizing Yoast Contributor day 2023 - October edition! Click through to see who will be there, what we will do, and more!

See where you can find us next »

SEO webinar

12 October 2023

Stay ahead of the curve in the fast-evolving world of e-commerce & explore key trends & emerging opportunities. Register for "E-commerce Trends 2023" now!️

All Yoast SEO webinars »