Yoast SEO 14.2: Russian word forms in beta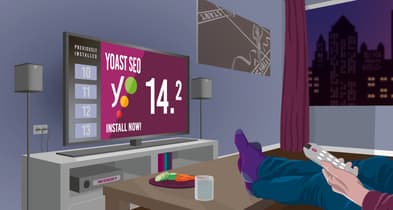 Our linguists are busy bees lately. Over the last couple of releases, we've launched word form support for Yoast SEO Premium users writing in Spanish and French. These languages follow the languages that already had word form support: English, German and Dutch. In Yoast SEO 14.2, we're adding yet another language: Russian! And, once again, this is a beta release and we'd like to ask you to help us improve it.
Russian word forms, now in beta
High-quality content is essential for getting your site noticed by readers and search engines alike. Making your content awesome can be hard, and it's easy to fall into the trap of over-optimizing your articles by using your focus keyphrase over and over again. Writing like this leads to content that's hard to read. Since adding our readability analysis, Yoast SEO helps you to circumvent these problems and improve your writing. Yoast SEO Premium takes that to another level and enables you to turn into a lean, mean writing machine.
The Premium analysis makes the writing process much more natural. It's flexible and smart, helping you improve your articles without having to go to great lengths to fit in your focus keyphrases awkwardly. As of 14.2, Yoast SEO Premium is much better at finding your focus keyphrases in Russian, even if the words are in a different grammatical form — and spread across a sentence. Of course, this is a beta release, so there might be instances where Yoast SEO doesn't correctly find a word. If you encounter this — or if you have any suggestions for improvements — please contact us.
The Yoast SEO Premium analysis also comes with support for synonyms and related keyphrases. Using synonyms in your text makes the content come alive and reduces the need for repetition of your main focus keyphrase. By also adding related keyphrases, you can paint a complete picture of your subject, making the text rich and authoritative.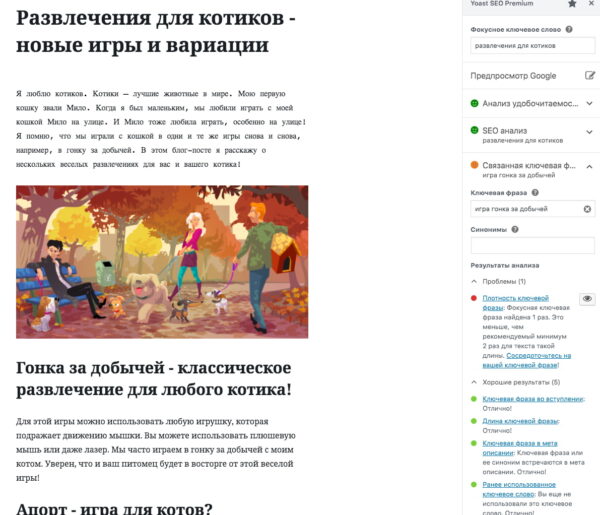 Yoast employs several Russian colleagues. One of them works on the team that develops the language part of the plugin, so we thought it would be awesome if she introduces the Russian word forms feature for our Russian audience.
Help us improve language support
As a reminder, we'd like to ask you once again to help us improve word form support for new languages. The launch of Russian word forms — like the release of French in Yoast SEO 14.1 — consists of a beta version that we're improving and expanding as we go. We use this first release to get Russian up and running. Now, we can find and recognize word forms in Russian much better than before, but not as good as the other languages we've implemented. That might mean that we don't recognize every word correctly or that you're noticing false-positives. If you find things like this, we'd like to know!
To help us collect your insights and experiences, we're working on a unique language feedback system inside the plugin. That's not done yet, so until then, you can send us your improvements via email.
While sending us your feedback, please include the following:
The focus keyphrase you've used for this specific piece of text.
The sentence in which you've noticed one of the assessments working incorrectly for the focus keyphrase you mentioned above.
Our team of linguists will do the rest. Thanks for your help!
Improvements in Yoast SEO 14.2
Among other things, we've fixed several issues with breadcrumbs. One of these bugs turned the order of breadcrumbs on its head, which is not something we like. Things should work as expected now. We've also changed how we check if a focus keyphrase was used before. We currently run this against our indexable table, making the process more efficient.
Update now to Yoast SEO 14.2
We've added a new language to Yoast SEO Premium: Russian. Now, those writing in the Russian language can enjoy a more flexible, natural way of improving their posts. We have many more languages coming up! Remember, if you have feedback on these beta language releases, please let us know. We want to make everything work flawlessly, so we need your help.
Coming up next!
Event

December 09, 2023

Team Yoast is at Attending, Organizing, Sponsoring WordCamp Ahmedabad 2023! Click through to see who will be there, what we will do, and more!

See where you can find us next »

SEO webinar

12 December 2023

Learn how to start your SEO journey the right way with our free webinar. Get practical tips and answers to all your questions in the live Q&A!

All Yoast SEO webinars »