Yoast SEO 13.3: Improving our language analysis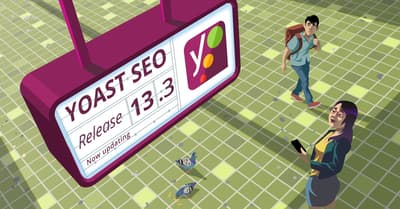 Our current string of releases focusing on improving our code is continuing with Yoast SEO 13.3. In this release, for instance, you'll find a sizable update to how we work with languages. In addition, we have a Schema structured data addition and several improvements to how Yoast SEO handles URLs. Read on!
Improving the way we handle languages
As you know, Yoast SEO has a very advanced system for working with languages. We analyze your texts and give you tips to improve the readability or the enhance the SEO-friendliness of those articles. Yoast SEO Premium customers get an even more advanced analysis that makes it even easier to optimize your text in a natural way. All thanks to word form recognition, related keyphrases and synonyms.
Getting the analysis so smart is no small feat. Languages are hard to grasp and every language has its own rules and peculiarities. To get these analyses to function properly, we need to finetune these for each language. In Yoast SEO 13.3, we've drastically improved this system.
We now break down words to their stems automatically — also called stemming —, but no longer build a complete list of all the different word forms. This was a complex and time-consuming process that made it hard to scale. This new version makes it much easier for us to improve the system — and to roll out a lot more languages in the near future.
Keep in mind, the analysis itself haven't changed — just the way we come to the end results.
Enhancements in Yoast SEO 13.3
In Yoast SEO 13.3, we've improved how the plugin handles URLs. Saša Todorović also submitted a number of improvements to how Yoast SEO works with URLs as well. We made sure that URLs keep human-readable, both in our forms and in the metadata Yoast SEO outputs on the frontend. Of course, they will remain encoded in the Schema structured data, because of the way JSON works with this.
Speaking of Schema, we've added a potentialAction entity to the WebPage and Article Schema pieces. This means we can indicate in the structured data that readers of this piece of content have the option of leaving a comment, for instance.
Update now to Yoast SEO 13.3
There you have it, Yoast SEO 13.3. This release bring a better language processing system, plus enhancements to the way Yoast SEO works with URLs. In addition, we fixed several bugs and made improvements to our code. You can find out more in the changelog for Yoast SEO 13.3. Download now!
Coming up next!
Event

December 09, 2023

Team Yoast is at Attending, Organizing, Sponsoring WordCamp Ahmedabad 2023! Click through to see who will be there, what we will do, and more!

See where you can find us next »

SEO webinar

12 December 2023

Learn how to start your SEO journey the right way with our free webinar. Get practical tips and answers to all your questions in the live Q&A!

All Yoast SEO webinars »