Boost your organic visibility with structured data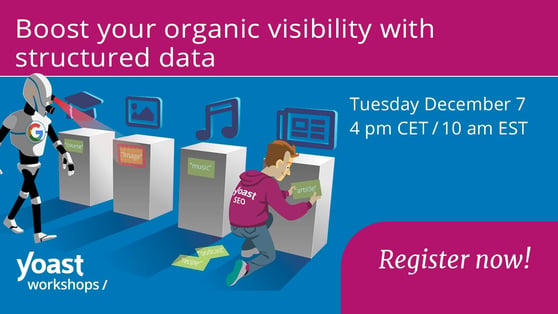 Boost organic visibility
Join the free workshop
Tuesday, December 07, 2021
4:00 pm CEST - 10:00 am EDT
Duration: 30 minutes
Register now!
Why you should join this workshop!
Studies indicate that ~80% of all searchers click on an organic search result (aka. not a paid ad) of the first 3 pages of Google. So, everyone that wants to grow traffic to their website should optimize their content for search engines.
But… when you're on that first (second or third) page, you want to be more visible than your competitors. You can do this with rich results; search results that show a lot of extra information like prices, reviews, images, FAQs, How-to's, knowledge panels, and much more.
How? Really easily with the help of Yoast SEO. So start today and boost your organic visibility!
What will you learn?
How structured data can get you rich results and improve organic visibility;
How to improve your chances of rich results;
How to add structured data (easily!) with Yoast SEO
And get your questions ready! In the end, there is a Q&A where you can ask everything to our experts.
Details:
Tuesday, December 7
4 pm CET / 10 am EST
Duration: 30 minutes (including Q&A)
Jono Alderson
Jono is a digital strategist, marketing technologist, and full stack developer. He's into technical SEO, emerging technologies, and brand strategy.
Coming up next!
Event

December 11 – 12, 2021

Team Yoast is sponsoring WordCamp Taiwan 2021, click through to see if we'll be there, who will be there, and more!

See where you can find us next »

SEO webinar

21 December 2021

Want to kickstart your 2022 SEO strategy? Join this FREE webinar to learn about the key themes for 2022 and the most important updates of 2021.

All Yoast SEO webinars »