React / frontend engineer
We're looking for a React / frontend engineer to help us transform our JavaScript views into React components and build modern new interfaces for website optimization. We'd prefer to work with someone who has experience building React applications in production, but are also open to candidates with a suitable skills set who are eager to learn.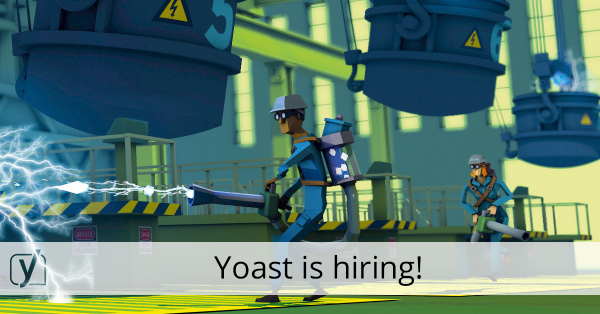 You utilize design patterns and coding principles like SOLID and TDD. The world of JavaScript is moving very fast. You welcome the change and laugh at the buzz.
Experience with Node.js and React is required.
Experience with D3, React Router and Redux is a plus.
An understanding of other reactive JS patterns is a plus.
Experience with other JS frameworks like Angular, Ember or Backbone is a plus.
Besides JavaScript, we use WordPress, PHP, git, GitHub, PHPUnit, Grunt.JS, GlotPress, HTML and CSS (SASS). If any of this is new to you, that's fine. We're looking for fast learners who can pick up new technology quickly.
We'd prefer you speak Dutch, but the only real requirement is English. We would expect you to work out of our office in Wijchen, NL though, even though working from home occasionally is an option. We will not consider remote workers for this job and we will not help you relocate.
What we're offering
A chance to spend half of your time building open source software.
A chance to work on software that is used by millions.
Monthly hack days to enable you to experiment with new technologies.
A ton of experience in the field of website optimization. We are SEO, analytics and conversion experts. You could become one too.
A mix of Agile, Scrum and Kanban development practices.
A MacBook Pro to write your code in style.
A competitive salary.
Apart from that there are many other benefits:
A pleasant and challenging work atmosphere in Wijchen (near Nijmegen, The Netherlands).
An opportunity to learn a lot and learn it fast in one of the leading SEO companies in the world.
We encourage individual and group trainings and courses (internal and external) and are frequent visitors of for instance WordCamps, DrupalCon and other events.
Extras like our LEGO build days and monthly informative get-togethers.
Your own Yoast avatar.
About us
Yoast consists of a rapidly growing team of internet enthusiasts. We're a start-up with a very good international reputation when it comes to SEO and website optimization.
Multiple times per week we publish free SEO and/or web development related articles on our blogs. We organize MeetUps and speak at conferences. At Yoast, we are very community-minded and highly value Open Source. We provide both free and paid plugins for WordPress and Drupal and are always looking to expand our field of work. Besides software, we sell online SEO courses. We serve a global customer base, with a focus on the US.
Our company is continuously in development. We create a lot of new products. Next to ongoing improvements of our Yoast SEO plugins, we develop courses on a frequent basis. The development of new products is mostly done internally and is a real team-effort. Our team consists of authors, illustrators, marketeers, developers and researchers. Together, we build new innovative SEO products!
If you're interested in working with us, please send your application letter and resume via the form below to Michiel Heijmans. For more information about our vacancies, feel free to email jobs [at] yoast.com and we'll be in touch!