Senior DevOps Engineer
Are you passionate about digital things, do you want to innovate and do you like to dive into code to make things work better and more efficiently? And do you want to work for a leading company in the field of Search Engine Optimization? Then this vacancy is for you!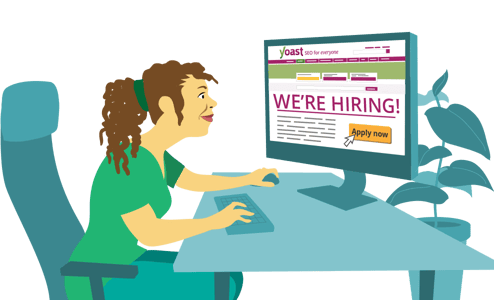 As a DevOps Engineer you stand on the cutting edge between Development and Operational ICT. You are the spider in the web! Every day you start a new challenge together with your colleagues.
The team
You will join a team that works daily on automating processes and managing our Cloud & on-premises infrastructure.
The team acts as a link between the different development teams and our hosting partners so that everything runs as smoothly as possible.
The team has a lot of knowledge of all the different processes within Yoast and is happy to help people if questions arise.
Together with the team you start the day with a daily stand-up to discuss current issues.
What are you going to do?
You develop and manage cloud environments such as Google Cloud Platform to run applications in such as via Google App Engine and/or Kubernetes, where we (will) host Jenkins and/or Staging servers for example.
You manage the CI & Data platforms and together with the Business Intelligence team and Quality Assurance team you build Pipelines.
You are responsible for the management of Travis, and migration of Travis to Jenkins.
You innovate and develop new methodologies and get to work on new software, (cloud) platforms, tools etc. There are always new insights and strategies and there is always room to innovate and improve something.
You escalate the alerts from our monitoring to the right parties and know how to keep an overview.
You are involved in the automation of the release process of our WordPress plug-ins, our Shopify App and our websites.
You take care of the development environment of our various development teams.
You take ownership of how you do your job, where necessary you ask questions and suggest improvements, using your own knowledge and experience.
You are aware of security risks and constantly keep them in mind.
You work together with your team members to broaden your knowledge.
Working independently is not a problem for you.
Who are you?
You have at least college or university level work and thinking, preferably a study Computer Science, ICT or a similar direction.
When you do something 3 times, you ask yourself if writing a script isn't faster.
When something doesn't go to plan or you see room for improvement, your inner Sherlock or Enola Holmes is on the case and you research solutions pro-actively.
You have a good sense of what the stakeholders need in terms of technical implementation.
Minimum of 3 years' experience with ICT operations, DevOps and/or as a Developer.
Minimum of 3 years of experience with pipeline automation using scripting, automation platforms such as Linux, Bash, CI platforms such as Github Actions or Jenkins.
Experience with containerization tools such as Docker or Containerd.
Experience with Container management tools such as Kubernetes or Rancher is a plus
Experience in ICT operations, DevOps or as a Software Developer.
Obviously, you have basic programming experience with languages such as Python, Ruby and/or JavaScript.
You have knowledge of and experience with monitoring tools such as Zabbix, Prometheus or Elasticsearch.
You can easily switch contexts and have little trouble keeping multiple balls in the air.
You have good communication skills and a sense of responsibility.
What we're offering!
A challenging job with a fast growing, dynamic, ambitious, and international company making an impact on the Web.
A monthly salary of minimum €3250 and maximum €4250 based on 32-40 hours per week, depending on your knowledge and work experience.
You will be part of an enthusiastic and fun team who are eager to teach you all the tricks of the trade!
25 vacation days based on 40 hours. In addition, Yoast gives you five volunteer days to help at, for example, the local soccer club. Or finally join your children's school trip.
A bonus scheme.
You receive 10% of your annual salary as a training budget.
Excellent pension plan, WGA gap insurance and ANW gap insurance, fully paid for by Yoast. That means more net salary!
Do you want to work out and stay fit? Yoast has its own gym and personal trainer.
An unprecedented good, but also a little bit crazy working atmosphere and a lot of teambuilding! The know-your-colleague quiz, LEGO building days and the monthly Yoast celebration, where we share our successes together. And Yoast also regularly provides something tasty!
You get all the space you need to bring in new initiatives and ideas and to grow quickly.
Procedure
Are you interested? Then please respond quickly. Please note that only applications with a cover letter will be considered. The application process consists of three interviews.
Do you have any questions about the position? Then please contact us. You can send your question to jobs@yoast.com.
(Our recruitment code applies to all applications)
Not what you were looking for? Take a look at our other job openings:
About Yoast
At Yoast, we optimize websites. Not just one aspect of websites, but every aspect. We make websites more usable, easier to navigate, faster and more reliable. In other words: we make websites work. For the owner and the visitor. The added bonus is that if you do all that right, a website becomes easier to find too. Read all about Yoast »
---
---