Redirect manager in Yoast SEO Premium
Easily redirect pages from within your WordPress install
Automatically get a request to redirect the URL when you delete a page
Integrated with Google Search Console
Do you struggle to create the right redirect when you need one? Or tired of waiting for your developer to create them?
One of the features of Yoast SEO Premium we're most proud of is the redirect manager. It helps you to create redirects in a jiffy, and keeps your site healthy and up to date! Learn what it can do for you and how to use it!
When do you use the redirect manager?
Everybody has to delete posts or pages at some point, whether you're cleaning up pages on your site or changing your site structure. Deleting comes with a risk though, because when the old URL gets visitors, they'll be served a 404 not found error. Landing on a 404 error page is something you should avoid at all times, for both user friendliness and SEO.
In most cases, especially for a frequently visited page, you'd want to redirect the old URL to a new one with the information you think is most relevant to these visitors. In other cases you might want to tell your visitors content has been deleted or temporarily show another page. With the Yoast SEO Premium plugin you can do all this directly from within your WordPress install!
How does it work?
After deleting a post or page our plugin will ask you directly what you'd like to do with the old URL:

As you can see it will automatically present you the most common options. Just select the one you prefer.
And there's more. When you decide to change the URL of an existing post or page, Yoast SEO Premium automatically creates a redirect from the old to the new URL. You don't even have to think about it!

Want to get an overview of your redirects? Or need more options? Go to Redirects under SEO in the menu on your left-hand side. Here you can easily enter the old URL and the new one you'd like to redirect it to. You can select the type of redirect and you're done!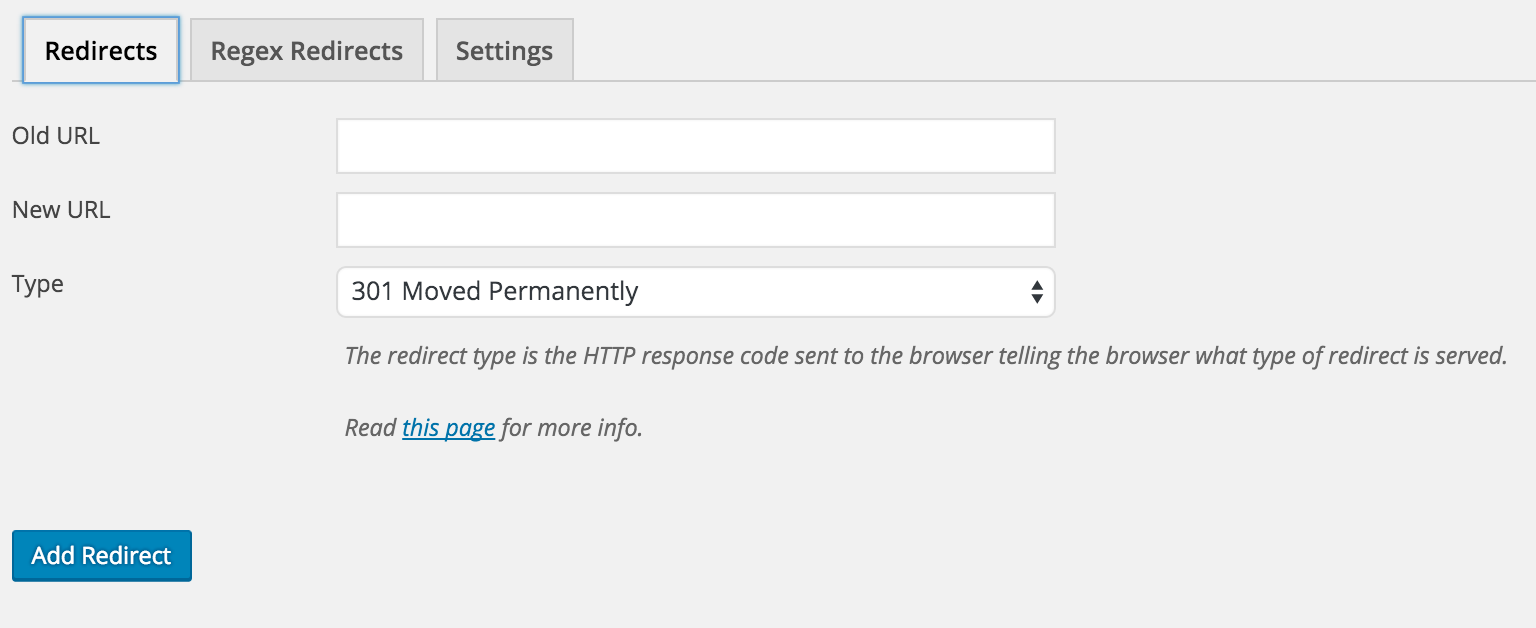 Redirect types in the redirects module
The redirect types that you can choose from in Yoast SEO Premium are:
301 – Moved permanently
302 – Found
307 – Temporary redirect
410 – Content deleted
451 – Content unavailable for legal reasons
Not sure which redirect to select when you delete a page? Joost wrote a post to help you decide what's best in which situation. And another post specifically on the HTTP 451 header. We even have a post describing the different redirects and which one to choose.
REGEX redirects
Yoast SEO Premium also enables you to create REGEX redirects. REGEX redirects are Regular Expressions redirects. This means that you can redirect a group of URLs that contain a certain word or expression with one redirect. It's a very powerful tool, that's very interesting for advanced users.
Scalability
The redirect module has been built for scale. By default, we use PHP to fix the redirects. For more advanced users we offer the option to write the redirects to a separate file, that you can include in your Apache or NGINX server config.
Import & export
You can export and import all your redirects in/from a CSV file. This file gives you a complete overview of all the redirects on your site. Now, you can make (bulk) changes to your redirects within that CSV file and import it again when you're done. Changes will take place immediately. You'll find the import and export features in the Tools section of Yoast SEO.
Get your Yoast SEO Premium subscription:
1 year upgrades & support:

Optimize your site for the right keywords for your users
Avoid dead links in your site
Get previews for sharing on Twitter and Facebook
Content quality and link suggestions as you write
More info