Why and how to investigate the top tasks of your visitors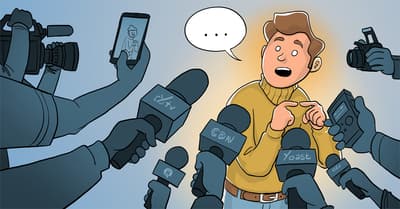 At Yoast, we continuously want to improve our website and our products. But how do you find out what makes them better? Sure, we need to fulfill the needs of our clients. But how do you know what your client's top tasks are? Doing research is the answer! We love doing research because we get valuable insights out of it. Here, we'll dive into one research type we use regularly: customer surveys and in this case, the top task survey.
How do you know what your customers need?
When we started working together with AGConsult on the conversion optimization of Yoast.com, they advised doing a top task survey. Research is always the first step in the conversion optimization process and you simply can't get all relevant information out of plain data from, for instance, Google Analytics.
To know why your customers are visiting your website, you need your customers to talk to you. If you think, you now have to start a conversation with all your visitors, don't worry. Luckily, there are several other ways to make your visitors talk to you. An example is setting up an online top task survey, which will pop up on your visitor's screen as soon as you want it to pop up. For example, immediately after opening your website or after a couple of minutes.
The best question for your top task survey
To make sure you don't influence your visitor's answers, it's important to ask an open question. By asking closed questions, you make your visitors choose between the answers you set up yourself. Although you can add an 'other' field, visitors are more likely to quickly choose a listed answer. That's easier than putting their own opinion in an open field. So closed questions prevent you from getting to know all your visitor's thoughts.

So, what question should you ask? Within the top task survey we perform on our own website, we always ask this question:

'What is the purpose of your visit to this website? Please be as specific as possible.'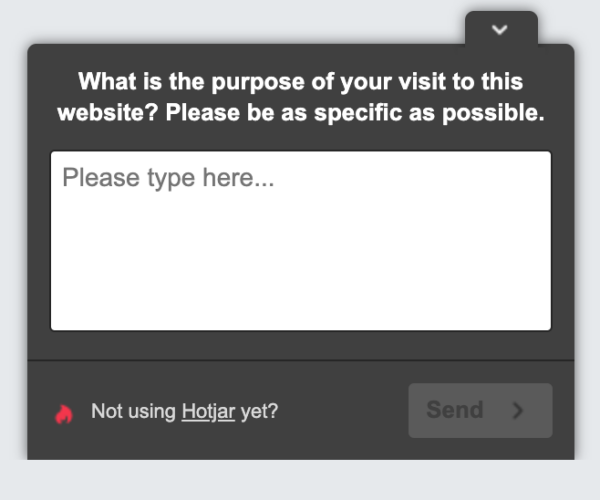 This pop-up will appear at the bottom right of the website, no matter what the landing page is. The above use of wording encourages visitors to really think about their specific purpose. Also the addition of 'be as specific as possible' often results in more valuable answers.
You could choose to only add this one question or you could choose to ask one more question to get more knowledge about your customers. For Yoast, within our top task survey, we always ask visitors a second question to tell us if they already use our most important product: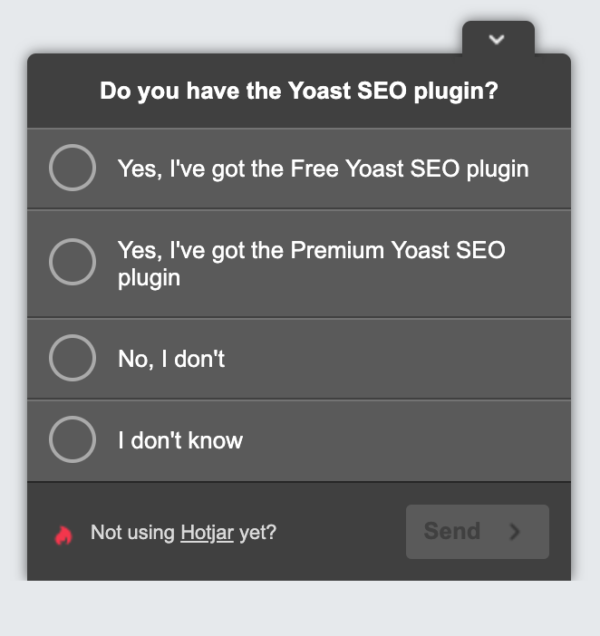 For other companies, it could be valuable to use this second question to get to know the age of visitors, the market they work in, etc. It all depends on what you want to do with the outcomes. If you're not going to do anything with the answers on the second question, please use only one question in the survey. The fewer questions, the more visitors will participate.
What to do with all the answers
When you end the survey, you probably have lots of answers to go through. How do you start analyzing all these answers? We recommend to just start reading through the answers and try to set up categories while reading. Set up categories that cover lots of answers, don't be too specific. You'll need to find a pattern in your visitor's answers. Only when you do this, you can create actional steps to optimize your website or your products.

To give an example, we've listed some of our own categories below:

Info/buying Yoast SEO plugin
Info specific feature
Info other plugins
Info about courses
Need help
Learn SEO
This might give you an idea when setting up your own categories.

The second step, after you categorize all answers, is setting up a plan. Now that you know which categories are the most important to your visitors, it's important to optimize your website using that information.
For example, our own top task survey showed us that almost 25% of our visitors are looking for plugin related help. We already had a menu item 'support' which linked to our knowledge base, but after the survey, we had the idea of changing the name of the menu item into 'help' because lots of visitors named it help.

We set up an A/B test, comparing the menu item 'support' with the variant 'help' in the test. What do you think happened there? 'Help' was a winner! This shows again: knowing what your customers are looking for is the most valuable information you can get.
How often should you repeat this survey?
We believe it's good to do a top task survey once a year. However, if you don't change much on your website or in your products, every other year can be enough as well.

Every time you analyze the answers of a new top task survey, you get to know if you're on the right track or if you need to shift your focus towards another product or another part of your website.
You can never do too much research!
Tools to start an online survey
There are several free and paid tools out there in which you can create a survey like this. We use Hotjar, but we're planning to create our own design and implementing it with Google Tag Manager. Other tools we know for setting up online surveys are:
On their sites, they have a clear explanation of how to use these tools to perform a top task survey.
Have you ever performed a top task survey for your website? Did you find out anything that you didn't know or what surprised you? Let us know!
Read more: Content SEO: How to analyze your audience »
Coming up next!
Event

December 09, 2023

Team Yoast is at Attending, Organizing, Sponsoring WordCamp Ahmedabad 2023! Click through to see who will be there, what we will do, and more!

See where you can find us next »

SEO webinar

12 December 2023

Learn how to start your SEO journey the right way with our free webinar. Get practical tips and answers to all your questions in the live Q&A!

All Yoast SEO webinars »