Yoast SEO news webinar – September 27, 2022
Why you should watch this replay
There's been a major Google algorithm update this month, which is always a big deal for SEO. Don't miss our experts' discussion of all the latest SEO and internet news!
As always, our Head of SEO, Jono Alderson, will keep you up-to-date on the SEO news you need to know in September 2022. In this edition of our monthly SEO webinar, Jono is joined by Jill Quick! After the news, they talk about GA4. Watch the replay or read our recap below to know more!
Stay on top of the latest news in SEO and register for our next (free) webinar on October 25, 2022.
Topics & sources
Google news
We've been talking for a while about Google's helpful content update which has been rolling out. They said it would be an overhaul of how they treated either really helpful content or really unhelpful content. Sites which are built to try and game SEO, with content purely designed to chase the algorithm shouldn't really be ranking very well. Meanwhile they should be rewarding authentic, independent contributors who really want to help their users.
It's not surprising really – that's how Google has always strived to work. We were expecting this to be quite significant and then really nothing happened. As far as the SEO industry has seen, the research suggests that very little has changed. Maybe some very low quality spam sites were penalized, but for most of us it doesn't look like much has happened. Maybe this is just the beginning and we'll start to see more of this. Either way, good content is better than bad content. Check out Google's guidelines and follow them.
Google's core update in September was similarly about rewarding high quality content. This update had a massive impact on a huge amount of the publishing industry. Major news publishers and information sites which publish reviews and informative guidelines lost up to 40% of their traffic in some cases.
The perspective is that it's getting harder to be a broad, generalist publisher. You have to be specialized. There's a broad lesson here that focus is good and less is more, which is hard for big established businesses to scale. This has been a really impactful update. So if you've seen your traffic tank in the last two weeks or so, this might be why.
A lot of this month's news focuses on products and product reviews. There were some big updates around product structured data. There were also some new features in Google Search Console highlighting your eligibility for merchant listing.
If you're selling online, make sure that you have a Google Merchant Center account and your products are in there. It manifests like the free shopping listings in Google. Now there are dedicated reports for that in Google Search Console and a bunch of new schema requirements (which the latest version of Yoast SEO is already aligned with!).
Google Discover is a kind of preemptive search. If you run Android on your phone or you use the Google.com homepage, you get a list of articles that it recommends. That's Google Discover.
It's powered by your search history, your interests, and so on. Now you can start to say "I'm not interested in this topic". That's really interesting as a feedback mechanism, because it might start to impact which types of sites show up. It might also cascade through to the ad ecosystem, influencing which kinds of sites you choose to advertise on. Theoretically, we might see the death of cookie-based advertising sometime next year; this could be a step in another direction.
Google Flights had a big update, and it now allows you to select eco-certified flights. We've also seen some similar stuff happening around local business, involving structured data for restaurants and stores that offer recycling services. Google are working on identifying which businesses tick certain boxes when it comes to social responsibility and similar concepts. This could become a competitive advantage, for instance if your competitors don't recycle, and you do, these become attributes that help you stand out in the search results.
WordPress news
The aggregate impact of adding default WebP images in WordPress is like rainforests worth of trees. Unfortunately it keeps getting pushed back for various technical and political reasons. And once again, it has been pushed back. However, if you wanna get ahead of the curve and start taking advantage of WebP images in WordPress, now you can do that with the Performance Lab plugin. This is like the official beta testing plugin for all the stuff that the WordPress Performance Team are shipping, so you might want to test it before you roll it out in any live production sites.
Social media news
TikTok is just taking over everything and suddenly all the other platforms are starting to panic. And more broadly outside of TikTok, the short-form video format is getting bigger and bigger. Now Instagram are announcing that they're going to essentially abandon their eCommerce and shopping focus in favor of chasing short-form video. We see Facebook desperately trying to reinvent to become focused on this. Is this a bubble, or is this how people search and learn and research now?
YouTube Shorts now is trying to compete directly with TikTok and they're saying if you have 10 million Shorts views over 90 days, you now become eligible for a revenue share of all the ads viewed within a set period. That sounds like an enormous amount, but given the kind of scale of TikTok and short-form video, it isn't unachievable.
Increasingly this feels like it's not only a change in the way that people search and discover, but maybe it's an entirely different business model. There's a whole world emerging here that we need to be watching closely and not see as a novelty, but see as a new format and a new landscape for marketing.
Other tech news
Shopify is doing something really interesting that many of the other platforms aren't: it's making it easier to handle logistics and integrations and shipping costs. Now you can start a Shopify store and say: "I want to market in 20 different languages. I want to drop ship all my products, so I want to have them manufactured on demand. I want to store them in localized distribution centers and I want to market in 20 different currencies without having to manage any of that". That's a pretty awesome proposition!
It might mean that smaller independent manufacturers, products, and sellers can compete with Amazon in a way that's not really feasible otherwise. Shopify can use their economies to scale, to benefit individual retailers. They're breaking down barriers, making things which are just unnecessarily hard for e-commerce and shipping easier.
Canva is one of the best tools on the web. It makes it really easy to design a great-looking banner or a landing page. However, they've just launched a website builder thing. If you want to build something pretty, it's definitely a really nice tool. But if you want to build something that's going to get to market and tick all the SEO boxes, you really do need to be using either WordPress or Shopify. Other options exist, but you will suffer as a result of missing out on some important features and extras.
Yoast news
We added support for Google's new schema options and requirements in WooCommerce and Yoast SEO for Shopify. It's really powerful. You can now create even better looking search results and access additional reports in Google Search Console. We also added new checks to our ecommerce products to make sure that you are using SKUs and product identifiers properly. It's a tedious admin job, but Google reads that data, and it gets output in your schema. Identifying what all your products are is quite a big deal.
In Yoast Premium, we've added some new crawl settings, allowing you to block Google from crawling a load of pages that shouldn't even exist in WordPress. That saves you a bit of crawl budget. The feature is buried in some of the advanced settings, but if you really want to nerd out and micromanage where Google is and isn't going, you can do that now.
If you are in Germany on 29 September, come and say hi to us at SMX Berlin where Jono will be speaking about schema. And if you are online on October 4-5 pop over and see us at NESS, the News & Editorial SEO Summit.
GA4: Migration Plan – The Helicopter Method
In her (very stylish) presentation, Jill gets to grips with what's changing in Google Analytics 4. With Google planning to phase out Universal Analytics from June 2023, it's time to prepare for GA4. Jill explains the key differences between the old and new measurement models, and guides us through setting up event tracking in GA4. Her 'Helicopter Method' is a phased plan for migration. Watch the recap to see her full presentation and tips, or check out The Helicopter Method on her website.
Want to see Jill speak live in person? She's giving a talk at the SearchLove conference in London on October 18. And you can get 30% off your tickets with our discount code!
Questions asked during the webinar
Is there any advice about the legality of Google Analytics, considering the recent cases and rulings such as in Denmark? Should we still be using Google Analytics?
Disclaimer: we are not lawyers and this does not constitute legal advice.
There was the Danish Protection Agency in particular that had said they don't think Google Analytics is legal. It's worth pointing out that these are guidelines and it's not law. So it's worth pointing out that it's not illegal in terms of, you know, official law and you're not going to go to prison for using it.
Having said that, this is definitely still something that we should all be looking at anyway. So with the Data Protection Authority stuff in other countries, if you want to continue to use Google Analytics, obviously now that we've got this migration on our hands, you do have an option now that it's not the only tool that you want to use.
I've got some of my favorite things that I can do in GA4 that some of the other programs can't do. Having said that, depending on your business, GA4 may not be for you. You might not need all the things that happen. If you are telling me that you only look at who goes to the website, do they look at the content and does the phone ring, then do you need to go through all of this? Maybe not.
If you want to use GA – and all of us through our careers, if you're in an agency or you're a consultant – you're going to touch it at some point, so we're all going to have to learn it at some point. You can't really avoid it. When it comes to the legalities of it the first thing to have a look at is your cookie management, and this is for any software you are using by the way. It's not good enough to say "well, we're compliant because we have a cookie banner". Most cookie banners are garbage and they don't work properly. You have to really think through the implementation, what should be firing, what are the rules, and making sure you're not sending any ghost hits to Google or wherever. And that needs to happen first.
The second point for the legalities of data collection is making sure that you collect the bare basics and then work your way up if there's a use case. Are you using any of that data? Because for one, there's a question of whether you can legally store all of this? If your privacy policy and consent mode isn't saying you can, do you need it? Focus on the bare basics so you can answer questions like, how many people come to the website, how do they find you and what did they do? And then move out from there.
If you are really concerned about Universal Analytics, and this is probably one of the reasons that Google is setting it on fire next year, it is really difficult to get into compliance mode. In terms of GA4, they are trying to make it more compliant by moving the servers over onto EU soil and truncating the IP address from it.
Further down the line, give it two to five years. There's been lots of stuff over the years talking about service side tagging. I think for a lot of big organizations in particular, I think we are gonna be seeing a movement toward collecting all of your first party data and then storing it on your own server, or maybe in BigQuery and then modeling it. There's a process people have to go through, for sure.
Jono Alderson
Jono is our Head of SEO. He's a digital strategist, marketing technologist, and full stack developer. He's into technical SEO, emerging technologies, and brand strategy.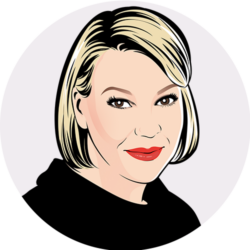 Jill focuses on all things involved in measurement. From Google Analytics (UA and GA4), to data visualization, reporting and BigQuery She helps brands get the most out of their measurement strategy through training, audits, troubleshooting and consulting.
---