Brand-new free online training: Block editor training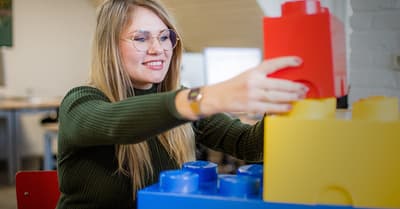 At Yoast, we are huge fans of the block editor. Admittedly -not right from the start-, but we're now block-editor fanboys and fangirls. That's why we created an awesome free block editor course! We hope it will help everybody to use the block editor to the fullest!
In this course, you'll learn how to create awesome content with the new WordPress block editor! Because it adds thousands of new possibilities for creating posts and pages and it makes editing a lot easier. So, in the new Block editor training, we take you by the hand and guide you through the process of creating and publishing content with the new block editor. What's more, we also show you some cool examples and explain how you can make the switch from the classic editor to the block editor. So, ready to start learning?
What will you learn in the Block editor training?
In this online course, we teach you everything you need to know about creating well-designed, perfectly structured content with the new WordPress block editor. Therefore, you'll learn:
what the block editor is, why it was created and why you should be using it;
how to use the block editor: so, how to add, move, transform, group, reuse and edit blocks;
how to publish a post using the block editor;
how to add more blocks – and thus: functionalities – to the block editor;
how to switch from the classic editor to the new block editor and what you should pay attention to when transitioning;
everything about the future of the block editor – or project Gutenberg, like the goal of the project and the plans that have been announced.
So, we'll take you by the hand and guide you through the process of creating a post with the block editor through practical screencasts, PDFs and assignments. To illustrate the endless possibilities of the block editor, we'll also show you some awesome examples of content created with the new editor.
How is the course set up?
The Block editor training is a hands-on and practical training that consists of three modules:
What is the block editor?
Using the block editor
Extras
These modules are divided into several lessons. Each lesson contains interesting videos, in which our WordPress experts – like Marieke van de Rakt and Jono Alderson – explain everything you should know. The practical lessons in module 2 also contain screencasts, so you can see exactly what you should do. We've also created reading materials, in which we explore topics more broadly. Moreover, to complete a lesson, you take a quiz or do a practical assignment. In this way, you'll know for sure whether you fully understand the theory and whether you're able to put your knowledge to practice. Once you've finished the course, you'll receive a Yoast certificate and a badge you can display on your website.
Online & on-demand
The block editor training is an online and on-demand training, like every other Yoast SEO academy training course. This means you can learn whenever you want and wherever you want! And did we already mention it's completely free of charge?
Start creating block-tastic content now!
After the Block editor training, blocks will no longer hold any secrets for you and you'll be ready to outshine your competition with visually stunning blog posts and pages! Are you ready? Check your Yoast SEO academy courses overview or click the button below to start the course!
Want to take a deeper dive?
Yoast SEO academy offers more in-depth courses about SEO and WordPress too. Want to learn how to write texts that are a breeze to read for readers and search engines alike? We offer classes on SEO copywriting! Or do you want to find out what keywords are most effective for your site? Our keyword research classes will tell you how. With a Yoast SEO academy Premium subscription, you'll have access to 11 specialist courses created by SEO experts. Check it out now!
Coming up next!
Event

December 09, 2023

Team Yoast is at Attending, Organizing, Sponsoring WordCamp Ahmedabad 2023! Click through to see who will be there, what we will do, and more!

See where you can find us next »

SEO webinar

12 December 2023

Learn how to start your SEO journey the right way with our free webinar. Get practical tips and answers to all your questions in the live Q&A!

All Yoast SEO webinars »