Scientific advisor for inclusive language
Are you an expert in the field of inclusive language and do you want to make use of your research background in a real-world setting? Then we're looking for you!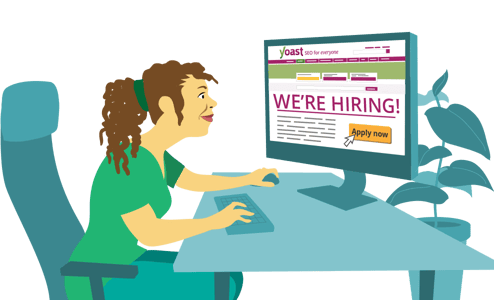 At Yoast we are committed to inclusivity. We help our users to write texts on the web that are accessible to as many people as possible. We believe that part of this mission is to promote the use of language that is inclusive of all people.
We invite you to work on an exciting project that bridges the gap between academic research and software development. The goal of this project is to be able to flag non-inclusive language use and provide people with inclusive alternatives.
For this, we're looking for an expert in the field of inclusive language. Our team of in-house linguists and developers will be happy to brainstorm about ideas. But you'll also have the freedom to work out your own ideas and prototypes.
In working on this project, you will not only benefit Yoast and our customers. Our code is open-source and therefore available to anyone. This is an opportunity to valorize your research and make it accessible to the wider world! At the same time, it's a great opportunity to make the web a fairer, more inclusive place.
We'd also be happy to set up an academic collaboration on this topic. So if you're affiliated to an institution that's interested in such a collaboration, or if you can set up such a collaboration with scholars or institutions in your network, that would be a plus.
This is a project-based position with a duration of 3-6 months. This duration is flexible and may be extended.
What are you going to do
Share your expertise and perspectives to help us to create guidelines on language inclusivity.
Find ways to detect over-generalizing or non-inclusive usages of common terms.
Ideally, work out prototype algorithms for recognizing non-inclusive language and suggesting inclusive alternatives.
Help us to provide writers with feedback that clarifies why certain words are a better, more inclusive choice than others.
Document your results and present them at Yoast.
Assist with your expertise during the implementation phase of the final product and get involved with testing.
What does your team look like
You'll have the freedom to work out ideas and proposals independently. But you'll also be brainstorming with Yoast's team of linguists and developers. At Yoast we love sharing knowledge. This is part of the open-source ethos that drives our organization. We not only love to share our knowledge with the outside world, but also within the company. You can draw on specialist knowledge from developers, software engineers, product owners, and linguists. As a scale-up we have a lot of professional knowledge available in-house, but at the same time we still operate on the basis of close cooperation that stems from our start-up roots.
At the moment, we are all working remotely and we communicate via Slack and Zoom. For this position, you can work fully remotely. If in-person meetings are possible again by the time you're starting this position, you're also welcome to work at our office in Wijchen (near Nijmegen, Netherlands) or part remotely and part at the office.
Who are you
You have an academic degree related to linguistics and/or social issues.
You're an expert when it comes to inclusive language. You have a strong track record in research on this topic.
You have a strong interest and ideally prior experience in applying research insights to innovative solutions.
A background in natural language processing is a plus. Alternatively, a background in educating people about issues related to inclusive language is a plus.
You can come up with ideas and work out solutions independently.
You can set and monitor your own work schedule independently.
You have excellent communication skills in English to share your ideas and visions.
Prior experience in software development is a plus. Our software is written in Javascript, but if you're proficient in another language that's absolutely fine.
Proficiency with git version control is a plus.
You can be based anywhere in the world and communicate with us via Slack or email. For occasional brainstorming or presentation sessions, you should be available during our office hours. These are Monday-Friday, 9 am-5 pm (CET/Amsterdam time).
What we're offering
A chance to work on some of the most-used web software in the world, currently used by more than 12 million websites!
A salary of € 3.300-4.200,- (on the base of 40 hours a week) depending on experience.
A young, fast-growing company that wants to seize opportunities with you.
A pleasant, challenging, and innovative work atmosphere.
An opportunity to learn a lot and learn it fast in one of the leading SEO companies.
You'll join a team of skilled, experienced, and most importantly, passionate colleagues.
A project-based position with a duration of 3-6 months. This duration is flexible and may be extended.
Are you interested? Then respond before June 27, 2021. Note: only applications with a motivation letter will be considered. The application procedure consists of three interviews. Do you have questions? We'll be happy to answer them. Please send an email to jobs@yoast.com.
(Our recruitment code applies to all applications)
Not what you were looking for? Take a look at our other job openings:
About Yoast
Yoast consists of a rapidly growing team of internet enthusiasts. We're a start-up with a very good international reputation when it comes to SEO and website optimization. Multiple times per week we publish free SEO and/or web development related articles on our blogs. We organize MeetUps and speak at conferences.
At Yoast, we are very community-minded and highly value Open Source. We provide both free and paid plugins for WordPress, Drupal, Magento 2 and TYPO3, and are always looking to expand our field of work. Besides software, we sell online (SEO) courses in our Yoast Academy.
Our company is continuously in development. We create a lot of new products. Next to ongoing improvements of our Yoast SEO plugins, we publish courses on a frequent basis. The development of new products is mostly done internally and is a real team effort. Our team consists of authors, illustrators, marketeers, developers, and researchers. Together, we build new innovative SEO products!
---
---