Production Support Engineer
Yoast is growing fast! With over 12 million installs, Yoast SEO is one of the biggest plugins in WordPress. This means we're playing major league when it comes to our customer support, quality assurance and development.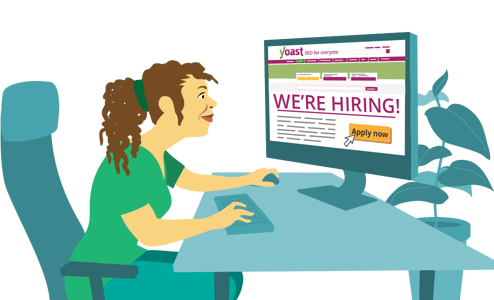 As a production support engineer, you're a key player in connecting these disciplines. You're aware of the problems our customers are facing, understand what our developers are doing and are up to speed with QA best practices. In your role, you're triaging incoming bug reports. Your ability to quickly switch context, dive in deep, recognize potential problems, and communicate about them make you the perfect gatekeeper for our bug trackers.
When you're onto something, you're able to document your findings in a clear way, so that your colleagues can easily follow your train of thought. And if you need more information from our customers, you're a friendly face in written communication.
What we're looking for
You're experienced in issues and incident management and as such are able to be the bridge between customer support and development.
Firstly; to warn of problems outside the world (filtering) of Support and
Secondly; to proactively inform decisions and to be aware of expected problems.
Thirdly; You are focused on continuous improvement while gathering insights into technical defects in our plug-ins or platforms and are able to communicate that proactively to the rest of the company within Support and with Development.
You processes issues through Issue triaging, issue management, escalating issues including ownership and evaluating the system used You have to balance Business goals and customer demands and you are able to fight and make a case for either one.
Furthermore, you document problems through verification and reproduction and support the Support team with technical help and possibly some optimization of the processes or more technical information.
You analyze data by using Metabase/power BI and highlight priorities. You proactively identify opportunities from support by means of the ideas project/feature requests and use this technical knowledge to join the community. You track GitHub and Jira issues through labeling, bug reports, verification/querying/moderating from GitHub
Your work easily with diverse groups of stakeholders like developers, team product, etc. and are able to join Support leads in sprints with your own epics.
Who are you?
Fluent in English (proficiency level 4 / C1, or up).
Preferably experience in a similar bridge function between support and development
Ability to translate (very) technical issues into non-technical lingo and vise versa.
Able to logically think of and test hypothetical cause-and-effect situations of recent changes.
Ability to analyze impact and decide on severity and urgency of bugs.
Not afraid to keep pushing for answers and attention until the issue you're raising gets the attention you think it deserves
Knowledge of WordPress, WordPress API's / filters / eco-system
Preferably experience with WordPress Hosting
You can work with GitHub, Jira, Confluence, and HelpScout, or are willing to learn.
Knowledge of PHP, Bash (Shell scripting) MySQL, webservers (NginX, Apache), (Python)
Ideally located in the CET/GMT/EET
What we're offering
A challenging job in a fast-growing, dynamic, ambitious and international atmosphere. Working at a company that impacts the web.
You can work from the office, fully remote or hybrid.
A chance to help us shape your community manager role at Yoast.
A monthly salary of € 2500 – 4500 (on the base of 40 hours a week) depending on experience.
25 vacation days (on the base of 40 hours). Next to that, you'll get five volunteer days which you can spend helping out at the local soccer club for example. Or to supervise a school trip of one of your children.
You'll be able to spend 10% of your salary on education.
A bonus scheme.
We have a great pension plan, which is fully paid by Yoast.
Exercise and stay fit! We have our own gym and a personal trainer!
We have a really fun (slightly crazy) company culture with lots and lots of team-building activities. The know-your-colleagues-quiz, lots of celebrations, and LEGO-building days.
The opportunity to learn a lot in a short time, at one of the leading SEO companies.
Procedure
The application process consists of three, maybe four, parts: an introductory job interview, one or two practical interviews, and a final meeting. These steps might take place on multiple days. A social media screening might be part of the procedure. Note: only applications with a cover letter will be considered.
(Our recruitment code applies to all applications)
Not what you were looking for? Take a look at our other job openings:
About Yoast
At Yoast, we optimize websites. Not just one aspect of websites, but every aspect. We make websites more usable, easier to navigate, faster and more reliable. In other words: we make websites work. For the owner and the visitor. The added bonus is that if you do all that right, a website becomes easier to find too. Read all about Yoast »
---
---